Transmission coolers
From Crankshaft Coalition Wiki
by: Cobalt327
(Click here to edit this page anonymously, or register a username to be credited for your work.)


[edit]
Overview
Most vehicles with automatic transmissions came from the factory with a transmission cooler mounted in the radiator. Some have auxiliary coolers, too. Air cooled automatic transmissions were only rarely used, some 50s Fords, 1961-'63 GM compacts and some Powerglide applications were air cooled.
The engine cooling system condition and efficiency cannot be overlooked when a radiator-mounted transmission cooler is used alone or in conjunction with an auxiliary transmission cooler.
[edit]
Cooler types
[edit]
Stacked plate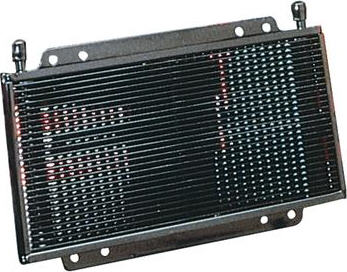 The stacked plate cooler is considered to be top of the line. The stacked plate design has good cooling vs. size and can be mounted in smaller spaces than other coolers.

[edit]
Fin and tube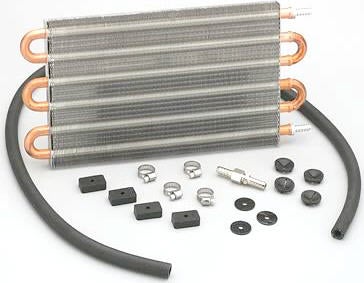 The fin and tube coolers are cheaper to manufacture but are larger per amount of cooling capacity than the stacked plate design. If there's adequate space for mounting, the fin and tube can do a good job.
[edit]
Inline

These are used when space is at a premium. Often mounted along frame rails or other out of the way locations. This type generally doesn't cool as well as coolers with better airflow, but are better than not using an auxiliary cooler.
[edit]
Cooler mounting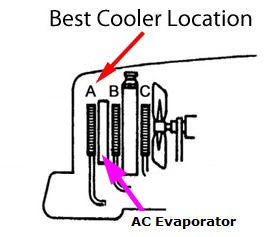 [edit]
Transmission case fitting threads
The threaded case port on the TH350 is either a female 1/4-18 NPSM (National Pipe Straight Mechanical) thread, and it uses a metal washer/seal. The straight thread fitting is the most common.
Or it will be a 1/4-18 NPT (National Pipe Tapered) thread.
There are also fittings to use AN cooler lines from the case (see photo below).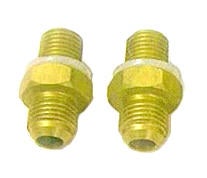 [edit]
Fitting to case torque
Straight fitting to transmission case is 20-25 ft/lb
Tapered fitting to transmission case is 15 ft/lb.
TH400 fitting to transmission case is 28 ft/lb.
[edit]
Direction of flow
The upper transmission fitting is the return from the cooler into the tranny.
The lower transmission fitting is the outlet from the tranny to the cooler.
So- OUT the bottom, IN the top.

Note: All except TH200C and TH2004R- which are opposite of the above.
[edit]
Cooler line routing
[edit]
OEM cooler in bottom tank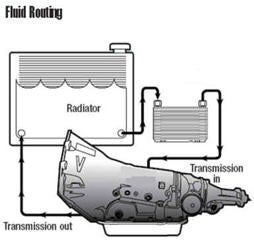 [edit]
OEM cooler in side tank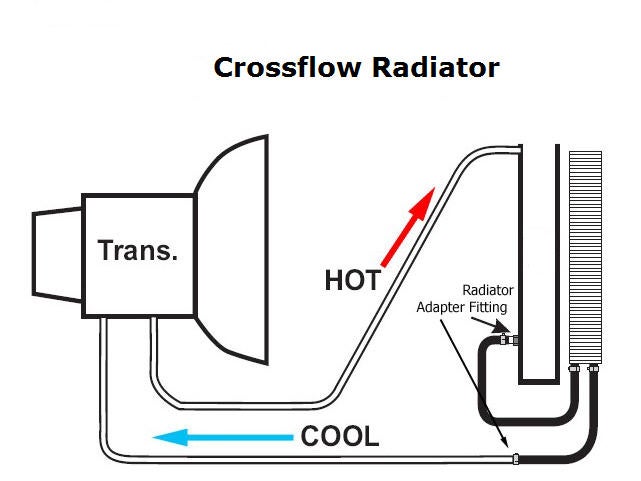 [edit]
Cooler orientation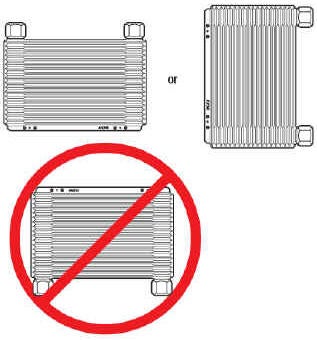 [edit]
Resources