TH700R4 through 4L70E tips and tricks
From Crankshaft Coalition Wiki
by: 700guru, Alittle1, Cobalt327, Crosley, Jon, KennyD
(Click here to edit this page anonymously, or register a username to be credited for your work.)


[edit]
Summary
This section will contain some rebuild tips and tricks on the 700R4 through 4L70E transmissions.
These transmissions use METRIC fasteners exclusively.
4L65E/4L70E will have 5 pinion planetary housings and 13 vane oil pump rotor - internal parts will retrofit into the non-electronic 4L60 and early 700R4.
[edit]
Rebuild manual
There are several manuals, DVD and videos found online to aid the DIY person with the rebuild process for these transmissions. ATSG manuals are suggested as a reference material for a proper rebuild. They contain specs, photos, and a few upgrades for a basic non-high performance rebuild. The related update manual is also recommended for further manufacturer upgrades and mid-year modifications, especially for 1987 models as many changes were made this year. It also contains further information and additional diagrams for identification of exact type of TCC and valve solenoid wiring for your application.
[edit]
Performance section
[edit]
Kits for performance modifications
TransGo seems to lead the market in quality kits. Superior Transmission brand products offer quality too.
[edit]
3-4 clutch pack
The 3-4 clutch pack in these transmissions have been a problem area since production release in 1981. Clearance on the 3-4 clutch pack frictions should be in the area of 0.050" to 0.070". This can be adjusted via thin or thicker friction plates or steel plates.
[edit]
3-4 clutch pack kits
Z-Pak from Raybestos "is the patented, single-sided design clutch system that outperforms OE in torque and heat capacity without coning".
ALTO is the original manufacturer of Red Eagle® friction materials and Kolene® steel plates and Red Eagle bands. They offer a kit with single sided red friction material friction plates. Also available are "Commercial Duty" 3-4 clutch packs that allows up to 9 friction clutches and steels for the 3-4 clutch pack. These 3-4 clutch upgrades are considered a heavy duty upgrade and will save the transmission in the event of the governor sticking in 3rd gear.
[edit]
Boost valves
In a 700R4 - 4L60 non electronic trans, you will want a 0.470" to 0.500" main boost valve. For the low-reverse boost valve a 0.282" or 0.296" works well. On the low-reverse boost valve, measure the long valve land for size.
In a pre-1987 700R4 - 4L60 trans a larger low-reverse boost valve will hold off the auto upshift to 2nd gear while the shifter is in manual 1st gear.
[edit]
External cooler
The key to longevity in any automatic transmission is to keep the fluid cool; therefore installing an external bypass cooler is recommended. The factory transmission coolers are an integral part of the radiator and will only cool the fluid in accordance with the engine temperature. Transmission fluid life decreases as temperatures rise above 160º F. An external transmission cooler will help to prevent ATF breakdown and torque converter "ballooning" or expansion which will cause (catastrophic) pump bushing failure. Use the largest external cooler that will fit and not block radiator airflow. If you don't use an external cooler, consider using a transmission temp gauge. It's just as important to let the transmission warm up before it takes abuse as it is to keep it from overheating. And, if you don't have an external cooler you'll have a great idea of when to take it easy on the trans.
[edit]
2nd gear Servo
Photo of typical 700R4 - 4L60 series servos.
On left is Corvette size servo. Go to the OEM or various aftermarket parts sources for this servo.
In middle is a rare servo size from SSR truck and TrailBlazer SS, not a common size to find. Numbers on inside of the bottom section will end with 159.
On the right is common V8 sized servo, also used in 4.3 L V6 applications. Numbers on inside of the bottom section will end with 553.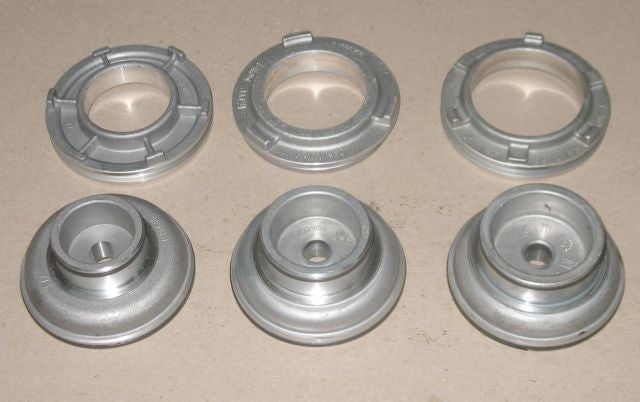 Not pictured is the 4L70E servo - which looks similar to the Corvette servo but with a slightly smaller diameter.
[edit]
Pump modifications
[edit]
Drain back holes
Drain back holes from behind the converter hub seal at the bushing should be enlarged in some pumps. This is year dependent since GM enlarged this hole in the late 1980s.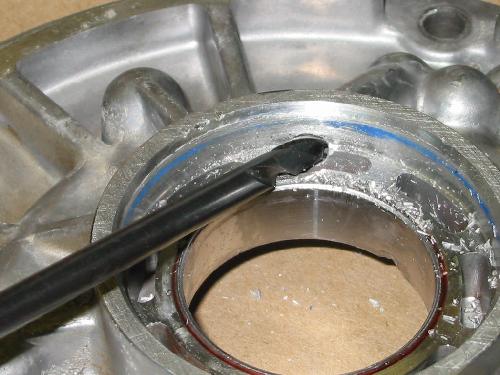 The matching hole on the pump cover stator support (shown in yellow circle) should be enlarged too.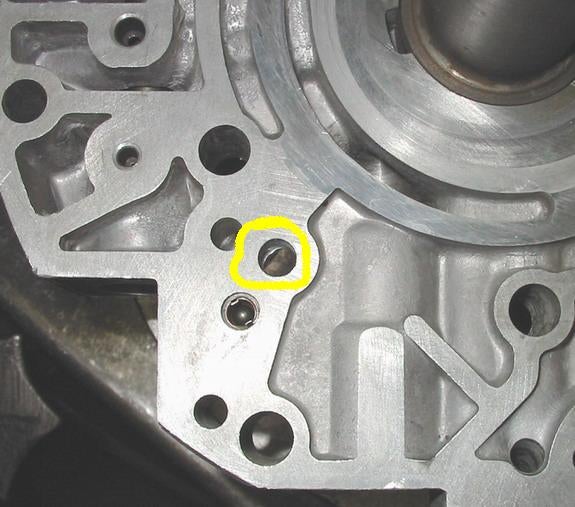 [edit]
3-4 clutch oil passage
Early 700R4 - 4L60 pump covers (stator support) have an extra bleed hole in the 3-4 clutch circuit that can be plugged off.
[edit]
Modification for better 3-4 clutch pack apply
On early pumps the circled hole can be tapped and plugged with a 5/16 inch set screw. GM deleted this hole in later pumps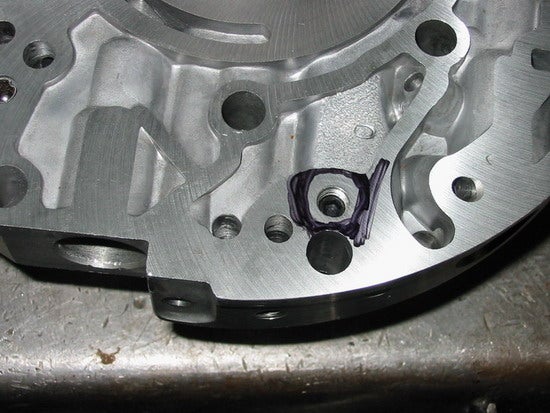 [edit]
Stake the pump bushing (for pre-1987 model year 700R4 )
Photo shows drill bit location to stake bushing. Pump bushing is removed for this operation. 1/4 inch drill bit works well here.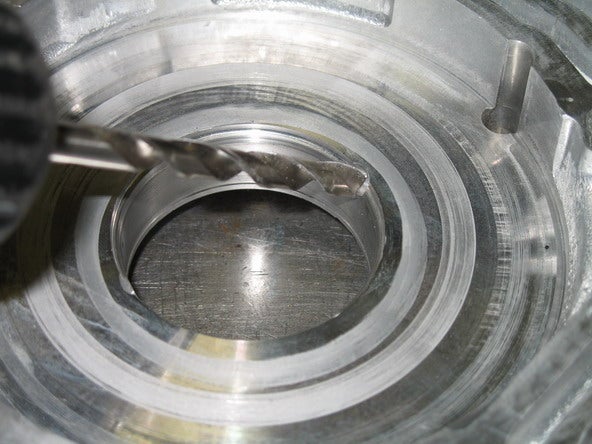 This photo shows the small spot made with the drill bit to stake the pump bushing in place. The spot doesn't need to be very deep.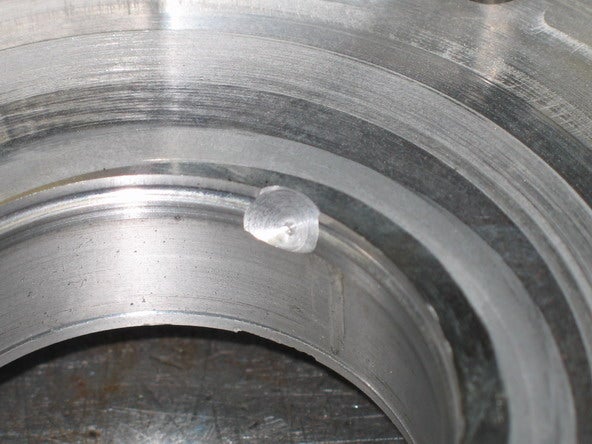 This photo shows the pump bushing edge dimpled into the location created with a drill bit. Use a suitable rounded chisel or the side of a screw driver and hit it with a hammer to bend the bushing edge into the recess area.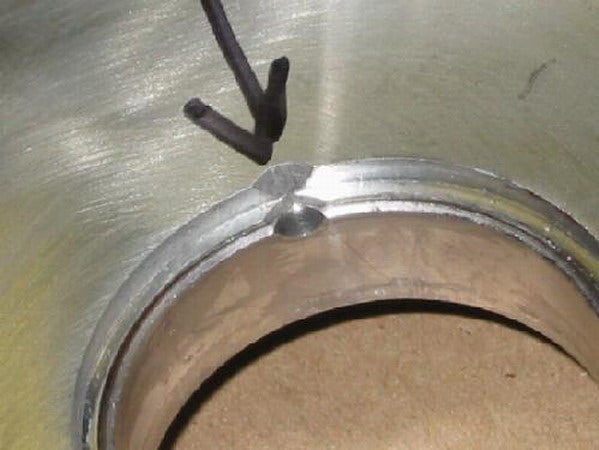 Note: The #732 pump (manfactured since October 1986 which includes some early 4L60Es without the 2 piece bellhousing) has a cast in step to help retain the bushing. The early pump had an issue with the pump bushing walking out, requiring staking and/or Loctiting it in place. Also, the #732 pump has an additional oil drain hole which is a connection for the oil transfer tube used with the auxillary valve body. The early and late pumps do not interchange (same with the pre- and post-October 1986 transmission cases (the late 1988-1993 cases have a "St. Louis Gateway" arch casting and the absence of 3 oil pressure fittings). Also pump assembly from 4L60E (PWM (pulse with modulator) or non-PWM) does not interchange with nonelectronic 4L60 and early 700R4; oil pump gear (esp. the 13 vane pump from the later 4L65E/4L70E) and later design Teflon bushing will fit 700R4 pump.
[edit]
Pump rotor clearance check
Photo shows the depth micrometer at 0.0015" showing clearance on the rotor. This is an ideal clearance. Set it at 0.001" to 0.002" for good pump performance.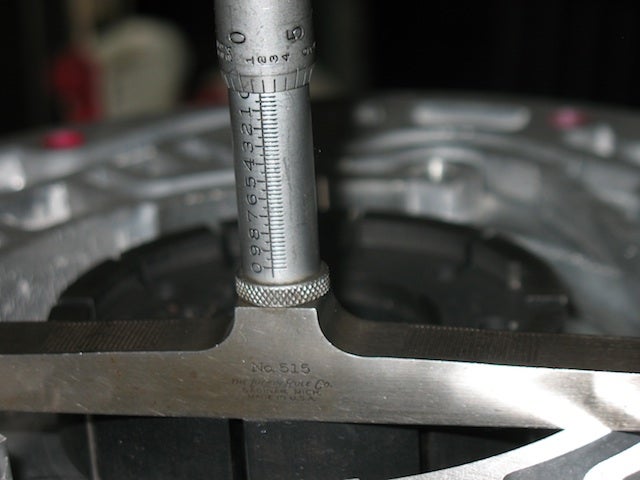 A wide angle view photo of the depth micrometer in use.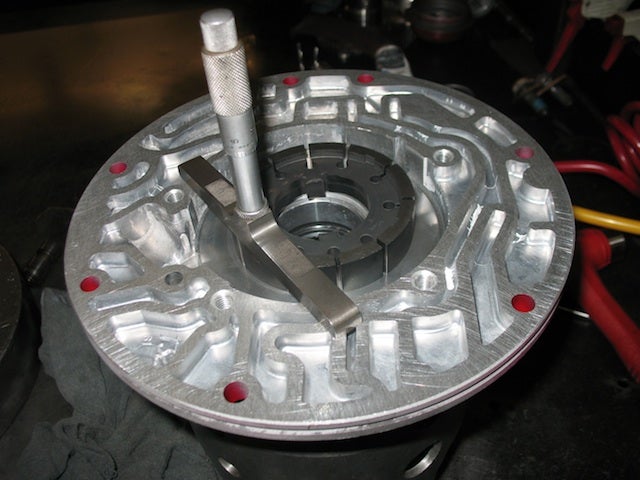 [edit]
Tailshaft/tailshaft housing
[edit]
Speedometer/speed sensor
Some GM vehicles (GMT400 trucks, S10s and Astro/Safari vans after 1989, 1990/'91 R/V series trucks (square body SUVs and crew cabs) came with a 40 tooth reluctor wheel (used with a speed sensor and a Digital Ratio Adapter Control (DRAC) module which is matched to the rear differential gear ratio) where the speedometer drive gear is usually located. For older cable driven speedometers, the reluctor wheel can be swapped out. Cable driven speedometers were used to 1990 (B-body) and 1992 (F-bodies) which had a hybrid speedometer gear and VSS housing. This also includes the early 4L60E (1993-97) with the driver side VSS (some 1995 applications with the early design one piece case with the pulse width modulator solenoid (PWM) will have the VSS mounted on the passenger side similar to the 1996+ 2 piece case with bolt on bellhousing).
[edit]
Pressures
The transmission fluid pressure readings should be in the ranges of the following numbers (psi):
| | | |
| --- | --- | --- |
| Range | Minimum | Maximum |
| Park | 90-110 | 190-230 |
| Reverse | 95-120 | 200-300 |
| Neutral | 90-110 | 190-230 |
| Overdrive | 90-110 | 190-230 |
| Drive | 90-110 | 190-230 |
| Second | 185-230 | 185-230 |
| Low | 185-230 | 185-230 |
[edit]
Resources

Crankshaft Coalition articles
Links
You can edit this article right now.
Just click the "edit" tab at the top of this page, or click one of the [edit] links to the right of an article section.
For more info, see Help:Editing pages.