Swirl port SBC heads
From Crankshaft Coalition Wiki
by: Cobalt327, Mortec
(Click here to edit this page anonymously, or register a username to be credited for your work.)


[edit]
Overview
Swirl port SBC heads are often overlooked for any kind of performance use. This page will weigh the pros and cons of using them in a "street performance" application.
[edit]
History
The SBC swirl port heads came to be in about 1987. They were used with TBI (throttle body injection) EFI (electronic fuel injection) applications in trucks. Their reason to be was for making good low rpm torque while getting acceptable mileage. This design was first used during the mid-1980s on the GM 2.0L inline four used in the Cavalier - usage of the swirl port was later used on the 4.3L V6 motor in 1985.
[edit]
Casting numbers and ID
The 1987-up 5.7L TBI truck engines (also some marine engines) used c/n 14102191. Casting number 14102193 heads were also used on 1987-up truck engines and is also used on the 305 RPO LO3 engine.
Both heads use center bolt valve covers.
191 have 76cc combustion chambers
193 have 64cc combustion chambers
[edit]
Design limitations
[edit]
TBI swirl-inducing vane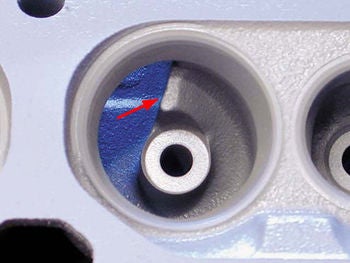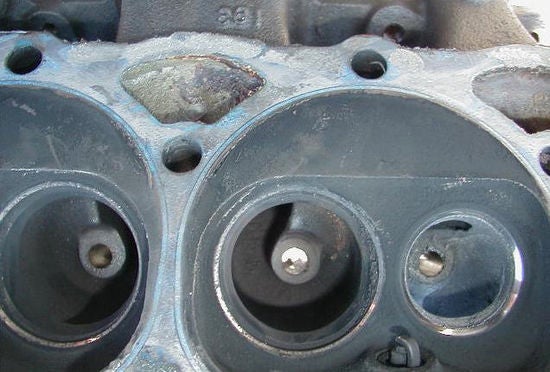 [edit]
L30 5.0L Vortec head
Some info and photos of the L30 5L Vortec head at post 478.
[edit]
Modifications and porting
Video showing port work on a c/n 193 swirl port head.
[edit]
Resources