Streetbeasts fraud controversy
From Crankshaft Coalition Wiki
by: 41willys, Centerline, Crosley, Jon, Powerrodsmike
(Click here to edit this page anonymously, or register a username to be credited for your work.)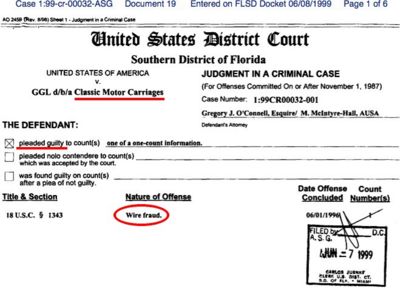 StreetBeasts is a notorious manufacturer of street rod kit cars with an extremely poor reputation among the online automotive enthusiast community. In June of 1999, Streetbeasts's previous incarnation ("Classic Motor Carriages") pleaded guilty to wire fraud, and was ordered to pay $2.5 million in restitution.
Besides "Classic Motor Carriages", StreetBeasts (or companies run by Streetbeasts's ownership) has previously operated under the names "Auto Resolutions", "Classic Auto Replicas", "Fiberfab", and "Innovative Street Machines".
Recently, representatives from StreetBeasts have been making the rounds of automotive forums, attempting to spin their checkered past, and threatening those who inform the public of their history with frivolous legal action and financial ruin.
After this wiki page was published, StreetBeasts and its owner filed three frivolous lawsuits against the administrator of Hotrodders.com, across two states, over two years. All lawsuits were eventually dismissed, Streetbeasts went out of business, and its assets were sold at auction. The lawsuits were classic examples of SLAPP suits -- frivolous suits intended to silence criticism by burdening the defendant with the cost of legal defense. Hotrodders.com forum members banded together to raise funds to defend against the suits, and ultimately succeeded in preserving their free speech.
Wire fraud case against Classic Motor Carriages, AKA "StreetBeasts"
In 1994, the Florida Attorney General's office filed suit against Classic Motor Carriages, on behalf of hundreds of defrauded customers, in USA v. GGL d/b/a Classic Motor Carriages. ("GGL" are the initials of George G. Levin, the owner of Classic Motor Carriages). For the relevant court documents, see: Streetbeasts_fraud_charges.pdf and Streetbeasts_judgement.pdf.
The case stated that, over a period of eleven years, Classic Motor Carriages defrauded people by "knowingly and willfully" making "false and misleading statements, representations, and promises" in regard to the "quality of the kit car purchased, the delivery time to the customer and the required assembly time." In addition, "false and fraudulent representations" were made to obtain deposits from prospective customers. Finally, the case stated that Classic Motor Carriages induced its customers to pay for kit cars, and then "failed to provide the automotive parts necessary for complete assembly."
Classic Motor Carriages eventually pleaded guilty to the charges in summer of 1999, and was ordered to pay $2.5 million in restitution. Shortly thereafter, sales plummeted, and Classic Motor Carriages was evicted from its headquarters. Around the same time, the owner of Classic Motor Carriages, George G. Levin, re-opened the kit car business under a new name: "Auto Resolutions" (later changed to "StreetBeasts").
StreetBeasts attempts to silence criticism
Use of fear tactics to suppress free speech
According to this court document: Streetbeasts_allocution_motion.pdf, "GGL's fraudulent scheme necessarily included as an intricate part the silencing of its critics".
Classic Motor Carriages's fraudulent activity was first brought to light by Stuart Rado, a consumer activist. In an attempt to silence Rado, Classic Motor Carriages used the courts to intimidate Rado, and forced him to live "day-to-day with a barrage of pleadings, depositions, and other legal maneuvers of GGL", even though Rado was dying of brain cancer. The aforementioned court motion stated:
"What is even more despicable is that GGL knew that Rado was dying of cancer but continued to pursue him with motions and notices of trial and other pleadings, one such notice of hearing being served within days of brain surgery."
StreetBeasts employed the same fear-mongering tactic in attempting to silence criticism on the Hotrodders Bulletin Board, an online forum for hot rod enthusiasts. In this forum post, a StreetBeasts representative threatened a Hotrodders.com forum moderator with legal action and financial ruin for exposing StreetBeasts's wrongdoing, stating:
"This has been turned over to our attorney, and you will be contacted if not already, I don't think you have enough equity in those cars you own to withstand a Civil Liable lawsuit , if I were you Id pull the plug on this thread immediately and walk away, and remove the Wiki site from your main page , let people find it on their own"
In addition, StreetBeasts threatened the Hotrodders.com administrator with legal action and financial ruin. In this post on the Hotrodders Bulletin Board, StreetBeasts impersonated Curt Scott, a previous StreetBeasts whistleblower. Apparently unaware that forum software logged the post as originating from the exact same IP address as previous StreetBeasts posts, the following forum post was made under the username "CurtScott":
"Ive been down this rode already Jon , you need to put your ego aside and drop this constant pursuit on Streetbeast, they will sue you and take everything you have , The owner has deeper pockets than you and this whole hotrodding site put together , your on the way to getting yourself in alot of trouble you probably dont want or need, rumor has it ,its already started, good luck pal"
These forum posts were an attempt at producing what is known as a "chilling effect", the suppression of free speech with fear tactics.
Use of aggressive spin tactics to deny wire fraud guilty plea
Over the course of a lengthy forum discussion on the Hotrodders Bulletin Board, StreetBeasts representatives repeatedly refused to honestly address the previous fraud charges levied against Classic Motor Carriages. Additionally, they attempted to deny their association with Classic Motor Carriages, presenting StreetBeasts as a company that simply purchased old equipment from Classic Motor Carriages after they went out of business.
Denial of fraud conviction
In this post on the Hotrodders Bulletin Board, a StreetBeasts representative said: "you have not proved that anyone was ever busted for massive fraud".
Referencing an article in the Miami New Times exposing StreetBeasts, in this post, a StreetBeasts representative said: "What this article doesn't say is that anyone in particular was found guilty".
In this post on the Hotrodders Bulletin Board, a StreetBeasts representative said: "after the investigation they concluded that no economic fraud was committed so no indictment was made".
Fudging the connection between StreetBeasts and Classic Motor Carriages
Following Classic Motor Carriage's conviction for wire fraud, George G. Levin, the owner of Classic Motor Carriages, simply reopened under another name, "Auto Resolutions" (later changed to StreetBeasts). Despite the fact that both companies were owned by Levin, StreetBeasts representatives have been attempting to portray themselves as a company that "bought" Classic Motor Carriages, and, as a result, were unfairly saddled with their reputation.
In reality, both companies were owned by the exact same person, and the change in brand name was most likely made to conceal the previous conviction for wire fraud.
In this post on the Hotrodders Bulletin Board, a StreetBeasts representative said: "we bought the molds and equipment from CMC".
In this post on the Two Guys Garage forum, a StreetBeasts representative said: "We are not Classic Motor Carriages. Innovative Street Machines purchased the molds and tooling they used. This is an understandable mis-identification on Terry's part, since the products are so similar, and we are in the same state, but it simply is not true."
Alteration and deletion of this wiki article
After being notified of the creation of this wiki article to document StreetBeasts's history, Streetbeasts representatives edited this article in a blatant attempt to cover-up the exposure of their ethically questionable actions.
First, StreetBeasts representatives edited the article to include "customer testimonials" of extremely questionable authenticity, including one edit that hilariously included the following text:
"I ordered a kit from streetbeast 5 years ago and have been paying on the layaway plan, last year I had about $2000 left to pay and was diagnosed with cancer, those saints at streetbeast forgave what I owed and shipped my dream car (34 Coupe) right away so I could build and drive it with my wife before I passed, God Bless Street Beast"
Ironically, the person who originally blew the whistle on Classic Motor Carriages, Stuart Rado, was dying of cancer. Despite this fact, Classic Motor Carriages literally pursued him to his grave with frivolous legal action in an attempt to silence him. In this court motion, the court document states that Classic Motor Carriages "knew that Rado was dying of cancer but continued to pursue him with motions and notices of trial and other pleadings, one such notice of hearing being served within days of brain surgery."
Later, StreetBeasts representatives deleted large portions of this wiki article, resulting in their IP address finally being banned from any editing of the Crankshaft Coalition wiki.
Specific problems with StreetBeasts kit cars
Aesthetically incorrect body design
Below are photographs of a Street Beast on the left and steel 1934 Ford on the right. Although some may say that the differences in the two are subtle they actually are substantial. Perhaps the first noticeable difference is the grill. The Street Beast grill does not even try to emulate the original. Another major difference is the roofline. The Street Beast is chopped but has the front lower than the rear which creates a very mis-shaped window. Although, any chopped top, roof modification, etc is going to create "mis-shaped" glass and window openings. Also the hood sides are stylized and not even close to the original. Finally the biggest difference is that the Street Beast is a one-piece body compared to the original steel version on the left. This means that none of the major parts made for the original car such as hood, fenders, doors, trunk lid, running boards, grill, glass, or windshield frame will fit the Street Beast. None of these parts made by any of the aftermarket manufacturers will fit either. The customer is "LOCKED" into returning to Street Beast for any body repair parts and is therefore at the mercy of the company for not only price but delivery time for their needed parts. Even though, most builders normally return to their vehicles manufacturer for major components. Also, because the body is one piece a damaged fender can't be simply unbolted from the car and replaced with a new one. The surgery involved is much more complicated and expensive.
Side-by-side comparison photos go here. If you have these photos, please upload them to the wiki.
Resale value
Streetbeasts are reputed to have a poor resale value when compared to other kit cars, and to other fiberglass-bodied street rods.
However, the opposing opinion states that there is no hard proof. Kit cars are frequently sold unfinished by novice builders, and that could impact the overall perception of "lower resale value". Various eBay sales constitute anecdotal evidence, and can't be used to credibly demonstrate the lower resale value of StreetBeast vehicles.
Numerous factors go into deciding the resale value of a vehicle, including proper assembly, "right" looks, details, overall appearance, and many other deciding factors.
Lack of parts interchangeability
In the FAQ on their website, StreetBeasts claims that their bodies are "pretty close" to the originals, but then goes on to state that "Street Beasts parts generally do not interchange with parts on original steel bodied cars".
Most aftermarket or original parts will not interchange with StreetBeast vehicles. This compels StreetBeast kit car owners to order replacement parts directly from Streetbeasts.
Incompetent technical support
Aggressive sales tactics
StreetBeasts sales tactics are notoriously aggressive, and they have a reputation for endlessly pursuing people via phone, in an attempt to induce them to place a deposit down for a StreetBeasts kit.
Factors in favor of StreetBeast vehicles
Streetbeast fiberglass is thick. Their website claims that the fiberglass bodies are "an average of 3/8 of an inch thick or more".
Known issues with ALL kit cars
Kit cars aren't really "easy" to build
The term "kit car" doesn't necessarily mean that it will be easy to build, or will even be any easier than building a car "from scratch".
The main difference in building a kit car is that the parts are supposed to be designed to work together, which eliminates the guesswork during assembly. Kit cars are also supposed to include detailed assembly instructions. Before purchasing any kit car, get a copy of the instruction book, and read it carefully.
In street rodding there are very few true "kit cars" available. You can purchase fiberglass and steel bodies, rolling chassis, and even chassis/body combinations. However, these are not "kits" -- they are the basic building blocks necessary to build a car. The builder must still purchase many parts and subsystems to make a viable vehicle, and a high percentage of those purchases will require some fabrication or modification to the body or chassis in order to work well.
There are thousands of unfinished kit cars on the market today simply because the novice builder didn't realize the amount of work required to "assemble" the kit. Slick advertising sucks many a novice into the "kit car" trap, and provides a poor entry into street rodding.
Before buying a kit car
Before buying any kit car, research the company's history, BBB complaints, legal problems, product quality issues and anything else that might be important. Slick advertising can make any company look good, but there is no substitute for an educated consumer. A simple, time-effective procedure would be to ask the members of several relevant automotive forums.
Another important issue to consider is the design of the kit. Is the body designed to be a faithful representation of the original or is it something less? Will parts made for the original fit the kit? If not, how can you obtain replacement parts in case of an accident? Are you forced to buy trim parts, replacement parts, and specialty parts from only one source (the kit manufacturer) if and when they are needed? If so, perhaps the purchase should be reconsidered. Most fiberglass and steel bodies available are good quality and are designed to use parts made for the original car which can be purchased from a variety of sources and some are pretty much proprietary designs that are so far off from the original that very few parts made for the original can be used. Does the frame use a readily available suspension, steering and brake system? If not where can you obtain replacement parts when the need arises?
Finally, before anyone lays down his hard earned money for a "kit car" he should ask other street rod owners their opinions. Not just other owners of the kit he is considering buying, but other street rod enthusiasts. Some kits are much better than others and the word gets around so don't hesitate to ask for opinions on a particular product from those who have been in the hobby a while.
Curt Scott of KitCar.com publishes a Kit Car Buyer's Guide that is generally thought to be considerably less economically biased than the mainstream kit car magazines.
In addition, KitCar.com publishes a Consumer Alert page, and an article entitled Predators and Editors, which discusses the fallacy of trusting popular kit car magazines.
References
Mainstream news media coverage
Miami New Times
Miami Herald
Broward Palm Beach New Times
Web articles
Forum discussions