SBC cylinder head identification
From Crankshaft Coalition Wiki
by: Cobalt327, Crosley, Jon, Mortec
(Click here to edit this page anonymously, or register a username to be credited for your work.)


[edit]
Overview
Most cylinder heads are identified in a general sense from simply looking at them. But just knowing the generic type of engine does not begin to tell the whole story. There are a wide variety of heads for most any given engine type and in many cases there's a lot of difference between them in their potential for performance.
[edit]
Basics of cylinder head identification
A big block Chevy (BBC) or small block Chevy (SBC) head is readily recognized by most, as are MOPAR Hemi heads, small block Ford (SBF) heads, and depending on experience and engine preferences, others as well.
Telling the difference between the various SBC heads can be hard if all there is to go on is what they look like. While there are visual cues that can help tell them apart (like the fuelie 'double hump'), there are several ways to ID cylinder heads closer than using just visual cues.
[edit]
Casting number
The casting number (c/n) is cast into the head as opposed to being stamped. The casting number is usually the best thing to use to tell what a cylinder head was originally used on and its potential for performance use.
When referring to the different casting numbers of Chevy heads, typically the last three digits are used because in most cases these numbers are not reused. There is always an exception to the rule; in this case it's c/n 462- which was used on no less than SIX different castings!
The casting number may be out in the open where it can be easily seen, like the Pontiac V8, or somewhat harder to see but still visible without taking anything off the head, or the number can be under the valve cover or under the head where it's difficult to see without some amount of disassembly.
[edit]
Casting date
Like casting numbers, the date code is cast into the head, and may or may not be visible without removing the valve cover.
The date code generally has a letter followed by two or three numbers. The letter is the month. The next number or two numbers will be the day of the month. The last number is the last digit of the year.
Example C124:

C = March (A = Jan., B = Feb., etc.)
12 = day of the month
4 = year ending in 4, i.e. 1964, 1974, 1984, etc.
[edit]
Cast in identifiers
These are different shapes that are usually found on the end of the heads. Some examples are shown below.
[edit]
Casting numbers
Located under the valve covers, the casting number is the best way to ID a SBC head. The number along with the date code can be used to pinpoint the heads original application fairly closely. Valve sizes (1.94" intake x 1.5" exhaust or 2.02" intake x 1.60" exhaust) and whether or not screw-in studs and guideplates are in place can further ID them. Be aware that screw-in studs/guideplates were not used on all, or even most, large valve SBC performance heads from the factory, and if present, they could very well have been added previously.
Click HERE for sites with information on casting numbers.
[edit]
Casting identifiers
Through the years, small block Chevy heads have been ID'd by the head's different end casting shapes. They don't usually tell the exact details like valve sizes but are useful for telling (at least potentially) a performance head from a non performance head. A casting identifier can differentiate between a large or small combustion chamber volume, also intake port volume, spark plug type (gasketed or tapered seat), whether they were used with a certain type of front accessory arrangement (short or long water pump for instance).
[edit]
"Fuelie" heads
The most recognized end casting identifier of the SBC heads is the "fuelie", "double hump", or "camel hump". It got the name fuelie from the fact that it was used on optional high performance fuel injected SBC engines, mainly installed in the Corvette. The name fuelie is somewhat of a misnomer, however; the fuelie heads were used on carbureted engines as well.
The names "fuelie", "double hump", or "camel hump" comes from the shape of the casting identifier. These heads were used during the '60s and '70s on various performance engines.
[edit]
Casting number "462" fuelie heads
462 is the most-used SBC head casting number out there- at least six different SBC cylinder head casting numbers end in 462, according to 'the books':
3767462
3782462
3814462
3890462
3891462
3990462
[edit]
Fuelie casting identifiers
[edit]
Vortec L30 5.0L 305 head casting number 12558059
[edit]
Vortec L31 5.7L heads
The L31 5.7L Vortec casting numbers are 12559062 and 10239906.
[edit]
L31 Vortec exhaust seats
Early on, there was much made of the supposed difference in flow between the Vortec heads that came with the hardened exhaust seat inserts as opposed to the heads that had induction hardened seats. This was largely due to an oft-repeated, although incorrect statement made by a car magazine that said in essence the 906 head was to be avoided because of the exhaust seat insert being vastly inferior to the heads with induction hardened exhaust seats.
The truth has been shown to be that there is virtually no difference in flow between the two, providing the seat is blended into the port. This is a common procedure that's often done in performance builds- regardless of whether the seats are inserts or induction hardened or unhardened. The manufacturing process leaves a lip where the seat and port pocket meet in many instances, and it's this lip that is carefully removed/blended when a head is prepped for performance use, again- regardless of whether there is an insert or not.
So both the c/n 906 and c/n 062 heads have virtually the exact same performance potential. In fact there are instances like for marine use where the hardened exhaust seat insert is actually preferred over the induction hardened seat.
[edit]
Various SBC chamber and port comparisons
[edit]
Some common small block Chevy head ID castings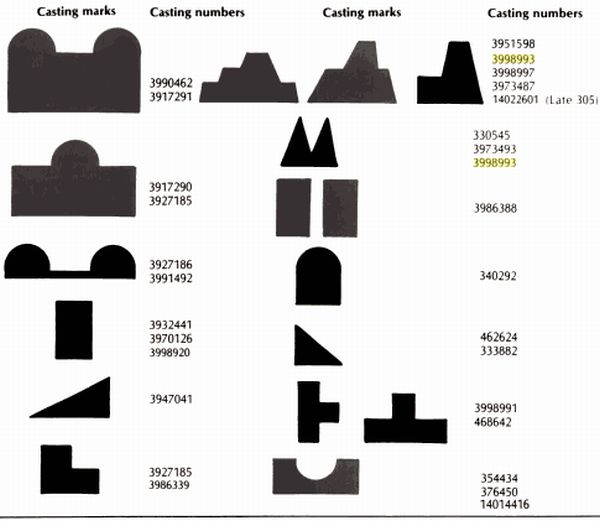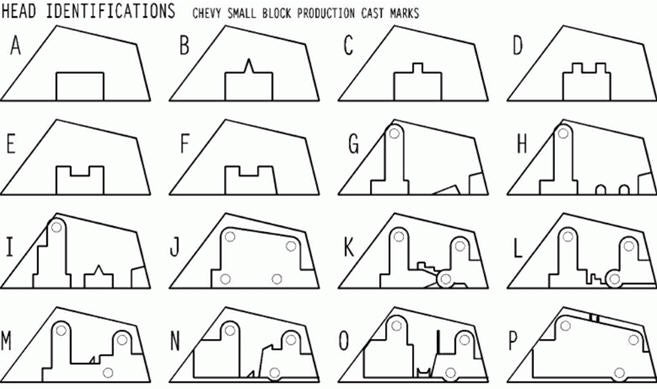 A- Rectangle c/n 460, 1955 & up 265/283, 8:1 CR, 1.72" x 1.50" valves.
B- Narrow triangle over rectangle c/n 520, 896, 1958 and up 283 Power Pak and 1957-'60 FI. 9.25:1 CR, 1.72" x 1.50" valves, 59cc nominal chamber volume. Could be used on a 305 but no accessory holes and has unhardened exhaust seats.
C- Vertical bar over rectangle c/n 997, 1957 Corvette 270 HP, 9.5:1 CR, chamber similar to Power Pak but with sharp corners in plug area.
D- 2 vertical bars over rectangle, c/n 997, 1956 Corvette 2X4-bbl 283; 1958 passenger car FI; chamber same as 1957 270 HP Corvette.
E, F- Large "camel hump" c/n 291, 461, 461X, 462. High performance or "fuelie" heads, chamber sizes are 62-64 cc nominal, came with either 1.94" x 1.50" or 2.02" x 1.60" valves, c/n 291 on 327 through 1968, has temperature gauge sender hole; 462 do not have temp sender hole.
G- Left-facing right triangle c/n 041, 1969-'70 350/300HP, accessory bolt holes, most have 1.94" x 1.50" valves
H- Small "camel hump" c/n 186, 492. Later high performance or "fuelie" heads, some c/n 186 (1969 and later) and all c/n 492 have accessory bolt holes. Either 1.94" x 1.50" or 2.02" x 1.60" valves, 64cc nominal chamber volume. 1970 LT-1/Z-28 use c/n 186.
I- Large triangle over rectangle ("crown") c/n 882. Large chamber (76 cc nominal), hardened exhaust valve seats, compromised intake port (1971-'76 350/400 cid). One of the most common smog heads, performance use is limited.
J- No casting identifier c/n 113, 1986-'90 Corvette and GMPP 350 HO, aluminum with no exhaust heat cross over, 58cc chamber, 1.94" x 1.50" valves, centerbolt valve covers, good 305 or light performance 350 street head especially if ported, 1988-on have raised D-shaped exhaust port, 3/8" screw-in studs and guideplates.
K- 3 right-facing "stairs" ("bench" on intake runner) c/n 487. 1971-'76 76 cc, said by many to be the best large chamber head. 1.94" x 1.50" or 2.02" x 1.60" valves were used, big valve heads machined for screw-in studs and guideplates.
L- Right-facing "bench" c/n 993. Common large chamber smog head, not a lightweight casting. Similar to c/n 487. Used on the SBC 400, so may have steam holes and 1.60" exhaust valves. Hardened exhaust seats.
M- One triangle, c/n 882. Alternative marking for 882 (see I above). Hardened exhaust seats.
N- Two triangles c/n 624. Late model lightweight casting version of c/n 882. Said to be crack prone. Used on Corvette and Camaro high performance engines with 2.02" x 1.60" valves. Hardened exhaust seats.
O- "Saddle" and vertical bar c/n 416. Late-model 305, conventional perimeter valve cover, intake port not restricted, lightweight, 57 cc nominal chamber volume. Hardened exhaust seats.
P- Double (Captain's) bars c/n 193. Used on TBI equipped engines. Mid 1980-up style centerbolt valve cover. Has restrictive vane cast in intake port to induce swirl/turbulence. Not usually recommended for high RPM performance applications unless serious port work is done. Hardened exhaust seats.

Note: Return to Cast in identifiers
[edit]
SBC heads to avoid
The c/n 462624 is said to be very prone to cracking. Even though they can be found fitted with 2.02" x 1.60" valves and screw in studs/guideplates from the factory, they still are not a good choice for serious performance use.
1971-up heads with casting numbers 882, 993, 487, 336 (and others) can have 3/8" exhaust stems as well as 1.72" intake valves. Heavy 20-30 Series truck uses these, mainly. Both small 1.72" intake and 3/8" stem exhaust valves may be found on c/n 261, 624. Also 1987-'95 center bolt valve cover-type head c/n 14102191 can also have the 3/8" exhaust valve stem.
Usually swirl port TBI SBC heads are not used in high performance applications because they run out of breath earlier than the RPM most performance camshafts need to make peak power. Some casting numbers for them are 187, 191, 193. Similar to the swirl port heads, but without the swirl-inducing vane are c/n 14011083 and 14096217.
[edit]
Current head casting/part numbers, specs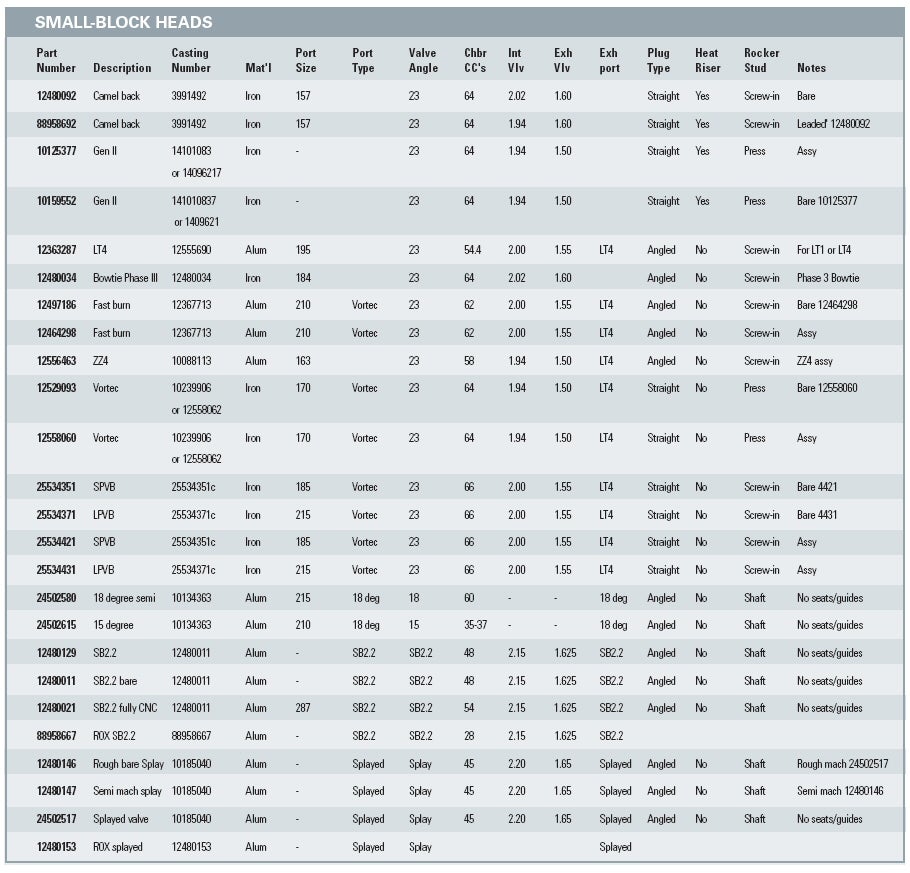 [edit]
Calculators
Static compression ratio
Dynamic compression ratio
[edit]
Resources
SBC casting numbers
General