Points distributor
From Crankshaft Coalition Wiki
by: Alittle1, Cobalt327, Jon, Techinspector1, Wink
(Click here to edit this page anonymously, or register a username to be credited for your work.)


[edit]
Overview
Points were used from almost the beginning of the internal combustion engine up until electronic-type ignition systems took over during the "smog years" of the early 1970s. There were a few examples of optional ignitions that were transistorized, etc. but these were expensive, temperamental and not widely used especially for street vehicles. Until the HEI came out in 1974, GM vehicles mainly used points and condenser ignitions.
One type of points used by GM was the "Uniset" type points, shown below. The Uniset points can be used in any distributor having a cap originally equipped with a window for points adjustment. Cheap examples used a clip to hold the wire from the coil instead of a screw that securely held the wire. Both types (clip or screw) were used regardless if Uniset or separate points and condenser.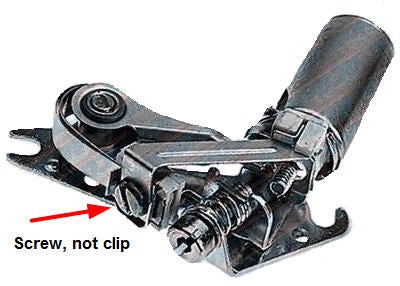 [edit]
Wiring a points distributor
[edit]
Ford 302
Hot wire goes from the switch to a resistor or through a resistor wire, then to the positive (+) side of the coil. Then a wire goes from the negative (-) side of the coil to the distributor.
For easier starting, the hot wire installed on the 'start' contact of the ignition switch can bypass the resistor to apply full voltage to the coil while cranking. A ballast resistor is needed in the 'run' position of the switch so the distributor points don't burn up.
{Youcanedit}}