How to identify a Ford V8
From Crankshaft Coalition Wiki
by: 1166629890, 1166737228, 1167962284, 1168061567, 1168560798, Alittle1, Barry.M, Cobalt327, Crashfarmer, Crosley, Jon, Metzijndrie, Paulmeisel
(Click here to edit this page anonymously, or register a username to be credited for your work.)


You can edit this article right now.
Just click the "edit" tab at the top of this page, or click one of the [edit] links to the right of an article section.
For more info, see Help:Editing pages.
[edit]
Valve cover bolts
One of the easiest ways to determine what family a Ford engine belongs to is to count the number of fasteners holding on the valve covers:
2 bolts: Y-block, 239/256/272/292/312. Produced from 1954 to 1964
5 bolts: FE, 332/352/360/361/390/391/406/410/427/428
6 bolts: 90 degree V8, 221/255/260/289/302/351W
7 bolts: 385 series, 429/460, as well as 370 truck
8 bolts: 335 series, 351C/351M/400
[edit]
Flathead Ford V8 (136/221/239/255/337)
This family includes all the Ford V8's produced from 1932 to 1953 (1954 in Canada).
[edit]
1932-1937
21 studs holding on the heads.
'32-'36: water pumps located at the front of each head, upper radiator hoses attach to water pumps.
'37: water pumps moved to the front of the block, upper radiator attach at outlet in center of heads. 1937 engines may run the earlier water pump heads and use "block-off plates" in place of the pumps in the block.
'32-'36: poured main bearings until October 1935 when an inserted main bearing engine was introduced. Both poured and inserted styles were available through 1936. Some inserted engines were stamped "LB" but many were not; there is no sure external way to identify them and many "stamped" engines are bogus. The oil pan must be removed and mains inspected. '37 blocks have insert mains.
Front-mounted distributor driven directly off the camshaft, coil mounted in distributor with 3 screws.
'32-'36 early: three screws.
'36 late: 2 screws at angle.
221 cubic inch displacement.
'32-'33: 1-barrel carburetor.
'34-'37: 2-barrel carburetor.
Bell housing is cast in as part of the block.
Bore and stroke is 3.0625" x 3.750".
[edit]
1938-1942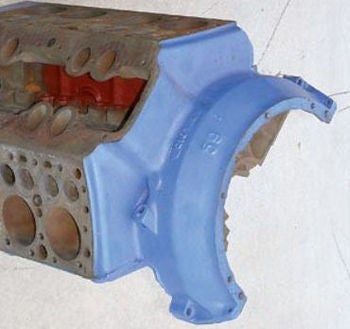 24 studs hold on the heads.
Two water pumps on the front of the block.
Water necks on the heads located in the center.
Distributor is front-mounted and still driven off the cam, coil mounts on distributor with 2 screws side by side, 37-41, 42 coil mounts on bracket top of passenger side head, "crab"-style distributor cap and conventional rotor.
Marked 78, 77, 81A, 81T, 41T, 99T, or 21A on heads.
Full floating bearings.
Bell housing is cast in as part of the block.
Ford engines had 221 cubic inch displacement.
Mercury engines had 239 cubic inch displacement.
Ford engines retain the same bore and stroke.
Mercury engines receive a 3.1875" x 3.750" bore and stroke.
[edit]
1946-1948
24 studs hold on the heads.
Water pumps and neck retain the same location as above.
Distributor mounts on front cover at camshaft, new 2 piece-distributor cap.
Heads are marked 59A, or 59AB.
Both Ford and Mercury engines have a 239 cubic inch displacement.
Bell housing is cast in as part of the block.
Ford and Mercury engines share bore and stroke 3.1875" x 3.750".
[edit]
1949-1953
The new engine was actually introduced in '48 when new truck line is introduced, car use began in '49. Major changes are made to the flathead:
Water passages are enlarged for improved cooling.
Water necks are now thermostat housings and bolt onto front of the heads.
Water pumps remain in the same location.
Heads are held on with 24 bolts rather than studs and nuts.
New conventional style distributor is used.
Distributor is now driven by a gear off the cam.
Bell housing is now a bolt-on stamped steel piece for cars, cast iron for trucks.
Modern insert bearings are used.
Ford engines marked 8BA, EAB or 8RT on the heads.
Mercury engines are marked 8CM, or EAC, on the heads.
Ford engines remain 239 cubic inch displacement.
Mercury engines are increased to 255 cubic inch displacement.
Ford retains the 3.1875" x 3.750" bore and stroke.
Mercury receives a 3.1875" x 4.000" bore and stroke.
[edit]
1937-1940 V8 60 flathead
17 bolts hold on the heads.
Much smaller than the normal flathead V8.
Has full floating bearings.
2.60" x 3.20" bore and stroke.
136 total cubic inch displacement.
1937 engines have tin sided blocks, while '38-'40 are full cast blocks.
Distributor is the same as the '37-'41 full size flatheads.
Two water pumps screw into front engine cover.
Oil pump is built into front main bearing housing.
[edit]
1948-1953 125-150 hp flathead
27 bolts hold down the heads.
Rear-mounted conventional style distributor.
Lincolns came only with hydraulic lifters.
Big Ford trucks came in both solid and hydraulic lifters.
337 cubic inches of total displacement.
3.50" x 4.375" bore and stroke.
Marked as 8EL for Lincolns.
Marked as 8EQ (8RT) for the Ford trucks.
[edit]
Ford flathead reference/resources
[edit]
335 series engine family (302C/351C/351M/400)
Made in Cleveland Engine Plant #2 or Michigan Casting Center.
Made in Ford Australia-Geelong plant 1974 - circa 1984. 302C and 351C only.
8 cap screws retain rocker cover.
Timing chain housing is part of block casting.
Thermostat housing on block.
Fuel pump mounting bolts are vertical.
Exhaust bolt holes diagonal.
351M/400: Intake is 12.7" wide the 351C is narrower (different deck heights). 302C/351C manifold approx. 11" wide (280mm).
It is difficult to differentiate a 351M from a 400 externally. The most accurate way is to remove the oil pan and look at the crank. More at 351M/400 crankshaft ID.
351M/400 share the same transmission bolt pattern as the 429/460 (385 series) motors. One exception to this was the 400, it was available with the FMX transmission in full size Fords in the early '70's and has the smaller bolt pattern.
All 302C/351C blocks use the smaller 6 bolt transmission pattern, C4 or "Windsor" type, etc. 351Cs were available with 4 bolt mains (HO or Boss). 2V heads and 4V heads were used depending on the engine option. Originally 2V meant 2bbl carb. and 4V meant 4bbl carb. However it was soon discovered that the huge 4V ports were not much good for street applications.
351C and 351M crankshafts are not interchangeable. They have the same stroke but journal diameters are different, 2.75" Vs 3.00". *Connecting rods are not interchangeable between "M" &and "C" motors, 6.58" vs. 5.78".
Australian crankshafts are cast and have a raised "302" or "351" on one of the counterweights. US made 4M, 4MA, 4MAB crankshafts were also used in Australian produced 351C engines. Ford Australia GT motors are 99% guaranteed to have a 4M-type crank in it. These 4M series cranks are also found occasionally in other "regular" Aussie production motors, particularly F series vehicles. Australian 302 engines have a longer connecting rod, it is 6.00" (351C is 5.78")
Australian-built Cleveland have 2V type heads, 59cc (on average) closed chamber heads on 302C and 74cc open chamber heads on 351C.
[edit]
Blocks
At some point during Australian production the casting "CF" at the top of the rear of the block, next to the oil pressure sensor outlet was changed to "GF" for "Geelong Ford" plant. Also at some point late during production in an attempt to reduce the Cleveland tendency to overheat, a "pillow" block was produced to increase water capacity around the cylinders.
A "NASCAR" block was produced by Ford Australia (exact year unknown) for the US market. Exact numbers shipped to the USA is unknown. These "NASCAR" blocks were to have thicker cylinder walls and "better grade" cast iron, but due to bad core shift were no better than standard blocks. However it is known that most of these blocks were returned to Australia and used in regular production to clear the supply of blocks.
Australian blocks have a "cast in" thermostat bypass plate, not stamped steel type.
[edit]
Intake manifolds and carburetors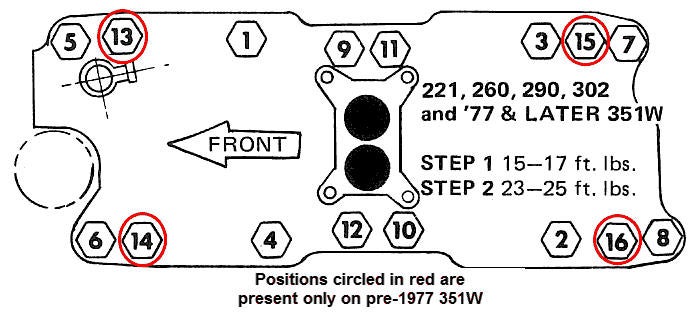 Australian-built Cleveland engines used either a cast iron 2bbl or 4bbl manifold with 2bbl size ports. Initially the 302C was only available with a 2bbl carb (1974-'76) and the 351C had either a 2bbl or 4bbl option.
Rochester carburetors were used on the 2bbls with an aluminum adapter plates. Carter Thermoquads were used on 4bbl spread bore-type manifolds with an aluminum EGR plate. Early production 4bbl manifolds had large secondary inlet ports. Later production 4bbl manifolds had the secondary ports reduced in size in an effort to increase mileage and throttle response particularly on 302's with the 4bbl option.
To confuse matters, Australian production 351C motors were mixed with US-built Cleveland engines (mostly 4bbl Autolite carbed motors) through to about 1976-'77. Early Australian production 302C's 1973-1975 (XA-XB Falcon) used US blocks with Aussie heads and crankshaft/conrods. Then it appears that US-built "C" blocks bought by Ford Australia were used up to the late '70's in regular production.
[edit]
Small block Ford ninety-degree engine family, (221/260/289/302/Boss 302/255/351W)
6 cap screws retain rocker covers.
Thermostat housing on intake manifold.
Exhaust bolt holes horizontal.
302 BOSS Engines ('69-'70) have Cleveland (335 Series) style (canted valve) heads and the block can be identified by screw-in freeze plugs.
Timing cover/water pump- put your thumb on the timing cover above the water passage, is it touching the head? It is a 302. Is it touching the block? It is a 351 (the 351W having a higher deck).
[edit]
Where made
289, and 351W were made in Windsor, this plant opened Jan 1966. 221, 260, 289, and 302s were made at Cleveland Engine Plant #1; the last one was shipped the week before Christmas in 2000. The last four months the plant built ahead for Ford of Australia, who continued to install those engines in new cars for about 2 years.
[edit]
4.2 L/255 CI (1980/1982)
In 1980, an urgent need to meet EPA CAFE standards led to the creation of the 255 cu in (4.2 L) version, essentially a 302 with the cylinder bores downsized to 3.68 in (93.5 mm). Rated power (SAE net) was 115-122 hp (86-91 kW), depending on year and application. Cylinder heads used smaller combustion chambers and smaller valves and the intake ports were ovals whereas the others were rectangular. The only externally visible cue was the use of an open runner intake manifold with a stamped steel lifter valley cover attached to its underside, giving the appearance of previous generation engines, such as the Y-Block and the MEL. It was optional in Fox chassis cars including the Mustang and corporate cousin Mercury Capri, Thunderbird, Fairmont, and standard equipment in the Ford LTD. Poorly received thanks to its dismal performance and mediocre fuel economy, it was dropped after the 1982 model year, and is considered one of the worst modern Ford engines.
[edit]
385 series (Lima) (429/Boss 429/460/370 truck)
7 retaining cap screws in rocker cover
May be found in industrial applications
Boss 429 engine has a semi-hemispherical combustion chamber, also known as a "semi-hemi". Easily identified by large valve covers with spark plugs through the center.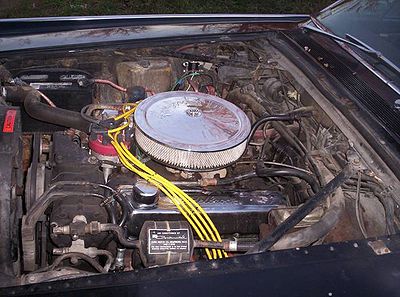 [edit]
FE Series (332/352/Edsel 361/360/390/406/410/427/427 SOHC/428)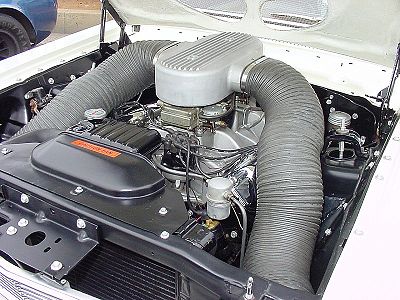 Intake manifold runners partially covered by rocker covers. The exhaust port runners extend out from the head ending with flanges that have the top exhaust manifold bolt holes through these flanges.
5 valve cover bolts.
Distributor goes through the intake manifold, the only Ford engine that has this feature.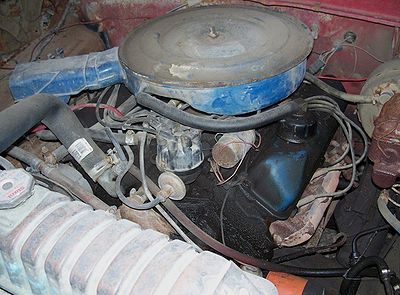 [edit]
Ford Y-block (239 / 256 / 272 / 292 / 312)
Introduced in 1954 to replace the long-lived flathead.
Rear mount distributor.
Cylinder #5 is ahead of cylinder #1.
2 studs (and retaining nuts) retain rocker cover.
Intake runners are over and under -- center exhaust ports are close together (similar to a SBC)
Exhaust manifold bolts are in a common plane (line) across the cylinder head exhaust surface, if they are staggered it is a Lincoln Y-Block (317/341/368 Pass. Car) (279/317/302/332 Heavy Truck).
[edit]
Small block Ford 5.0 L
[edit]
Ford Modular V8
[edit]
Single overhead cam (SOHC)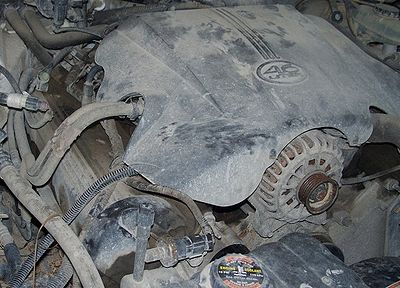 [edit]
Dual overhead cam (DOHC)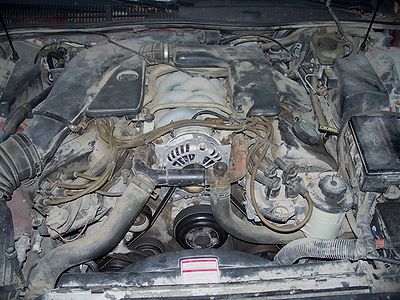 [edit]
Ford part numbers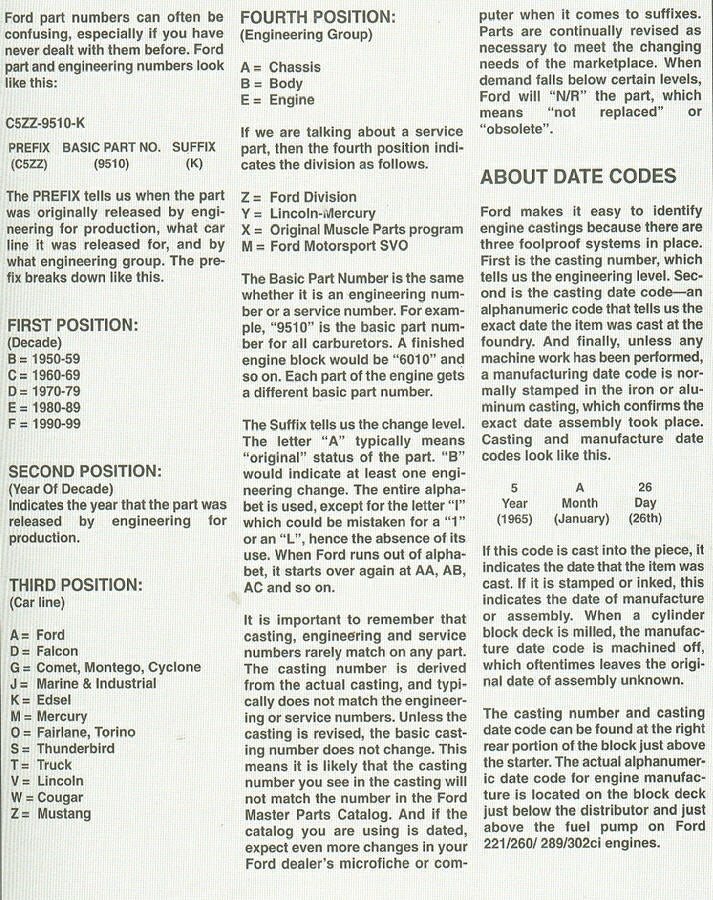 From reincarnation-automotive.com
[edit]
Part number resources
[edit]
Truck part numbers (also pertains to passenger cars)
[edit]
Resources