Epoxy primer
From Crankshaft Coalition Wiki
by: Cobalt327, Crashtech, Jon, Lbell101
(Click here to edit this page anonymously, or register a username to be credited for your work.)


You can edit this article right now.
Just click the "edit" tab at the top of this page, or click one of the [edit] links to the right of an article section.
For more info, see Help:Editing pages.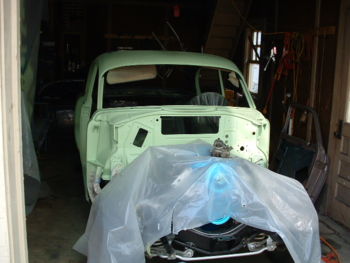 [edit]
Overview
Epoxy primer/sealer is a non-porous finish that is typically recommended as the first basecoat over bare steel. Various epoxy primers can also be applied over fiberglass, plastic, or the black iron phosphate coating that remains after "converting" rust. Care must be taken to observe the epoxy maker's recommendations in preparing the surface over which the epoxy is applied.
Real epoxy primer is a two-part mix, with a hardener that has to be added before spraying. The common epoxy paint you buy at the local hardware store in an aerosol can is not considered a true epoxy primer.
[edit]
Body filler and epoxy primer
Body filler and high-build primers can be used on top of epoxy primer. Although body filler is commonly applied to bare metal, applying epoxy primer before the filler adds adhesion, corrosion protection, and durability. Body filler is thought to be best applied over epoxy primer within the primer's recoat window time.
Epoxy is porous while curing. The body fillers are designed to attach to a rough surface and can put their strands into the porous surface of the epoxy. As the body filler heats up while it cures, it causes the epoxy under it to cure faster too. As the epoxy cures, the holes close up around the strands of the body filler, creating a stronger bond.
Commercial body shops may not use epoxy primer under body filler because it's not time-efficient. An extra day must be allowed in the repair process for the epoxy to begin curing before filler can be applied. However, some car manufacturers specifically require epoxy primer to be used under body filler for certain applications.
[edit]
Spray (rattle) can epoxy primer
Because epoxy primer must be mixed prior to spraying, it hasn't conventionally been available in a spray can. However, aerosol 2-component epoxy primers have recently been introduced, and are available from Rust-oleum and Rubber-Seal. To release the activator into the primer, a plunger is inserted into a stem on the bottom of the spray can. A review of one such product is available in this discussion.
[edit]
Cautions
Epoxy primer manufacturers may have very specific recommendations as to how the surface must be prepared, especially in regard to bare metal. Many topcoat failures can be traced all the way back to improper metal preparation, so it is critical to follow the manufacturer's advice regarding surface prep, and to be fully familiarized with proper procedure regarding any prep chemicals to be used, especially acids of any kind.
[edit]
Temperature
The temperature of the air and of the metal must be taken into account -- it must be high enough for the epoxy primer to properly cure. Note that in cold weather conditions, surface temperatures can be far lower than air temperatures. If the surface temperature drops below a particular value specified by the product manufacturer (usually around 60 degrees F) before it is fully cured, the epoxy may not properly cure even with later applications of heat. A non-contact thermometer can accurately determine if the surface to be sprayed is being maintained at an acceptable temperature.
Some epoxies do not cure properly if put over an acid surface. If you use an acid you must be sure all the acid is neutralized before you paint. Acid residue may prevent the epoxy from properly curing.
[edit]
Tech sheets of epoxy primers recommended for automotive use
[edit]
Akzo Nobel
[edit]
DuPont
[edit]
House of Kolor
[edit]
Martin Senour
[edit]
Southern Polyurethanes
[edit]
Transtar
[edit]
Valspar