Duraspark ignition
From Crankshaft Coalition Wiki
by: Cobalt327, GypsyR, Metzijndrie
(Click here to edit this page anonymously, or register a username to be credited for your work.)


[edit]
Introduction
Ford used the Duraspark ignition system (sometimes referred to as the DS ignition system) for quite a few years.
[edit]
Evolution
Ford's first production venture into electronic ignitions was termed "Electronic Ignition", Ford Solid State ignition, and Breakerless ignition system. While nearly identical to the DuraSpark series, it was only an upgrade to the standard point systems of the era. The DuraSpark-I and DuraSpark-II were produced concurrently, with the DS-I being designed to help meet California emissions and mileage requirements, and the DS-II for less-rigid 49-state use. In 1982 Ford dropped the DuraSpark I and introduced the DuraSpark III, also CA only. While each system is physically similar, there are a few important differences to observe between them for servicing or conversion purposes.
[edit]
DuraSpark-I ignition system
This California only version of the DuraSpark system is very similar to the DS-II, with the following exceptions:
DY204 module (red sealing block, a.k.a. "grommet")
Deleted coil resistor
Low-impedance high-energy ignition coil
The DuraSpark-I system coil charging currents are higher than the DuraSpark-II, and designed to achieve better emissions and mileage through more complete charge burning, and improved ignition of lean air/fuel mixtures. To allow increased coil output, the coil resistor was deleted, and an electronic dwell circuit added to allow full saturation of the coil, yet prevent coil overheating. While the equivalent to GM's original HEI, it was limited to California-only as it was more advanced and expensive to produce. This high cost and limited availability is one reason the less-powerful DuraSpark-II conversions have historically been more popular. With the much greater availability in today's market, and prices reduced to DS-II equivalents, the DuraSpark-I is seeing a large increase in popularity for upgrades and conversions.
The large distributor cap designed for the DS-I to help prevent terminal spark jumping was also standardized for all DuraSpark versions to reduce long-term maintenance. While the DS-I is capable of firing over 0.080" spark plug gaps, the factory recommended gap was 0.055-0.060" in most models - much wider than the DS-II.
Ford part numbers for the DuraSpark-I module are D7AE-12A199-A1B, D7AE-12A199-A1E, D7AE-12A199-A2B, and D7AZ-12A199-A.
Ford part number for the low-impedance DS-1 ignition coil is D7AZ-12029-A. However, due to the special dwell circuit, many other high-energy coils may be used, such as the GM HEI external coil, the Ford TFI coil, and many aftermarket equivalents.
Ford models using the DuraSpark-I (California-only) include:
1977 Custom
1978-'79 Fairmont
1977-'79 Granada
1977-'79 LTD
1977-'79 LTD II
1977 Maverick
1979 Mustang
1977-'78 Mustang II
1977-'79 Thunderbird
Lincoln and Mercury equivalent models are similarly equipped.
[edit]
Duraspark II ignition system
The Duraspark II was used between 1977 and 1984. There were at least two different types that can be identified by the color of the "strain relief" connector protector to the amplifier box- one is blue the other is yellow. They use a 2-piece distributor cap, the top cap has the terminals, the bottom is an adapter that fits onto the small diameter distributor body and fits the larger diameter cap section to it.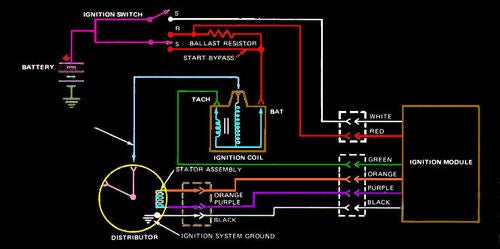 The system consists of the distributor, coil (external), amplifier box, wiring, and connectors. If the original Duraspark II coil is to be used, it needs to be supplied with about 9 VDC, not full battery current. That means a ballast resistor or resistor wire needs to be used. Optionally, a different coil that can use 12 VDC can be substituted for the DS II coil. Many aftermarket performance oriented coils work fine with a Duraspark setup. The Duraspark II module (blue strain relief) needs full battery voltage.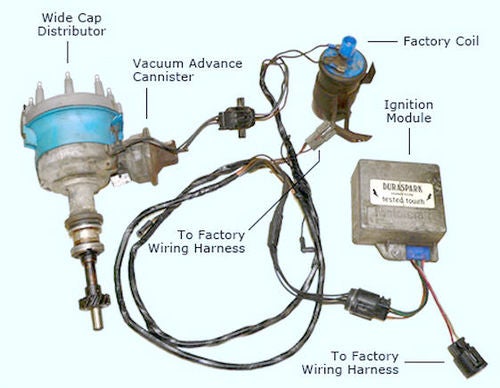 [edit]
Connector pins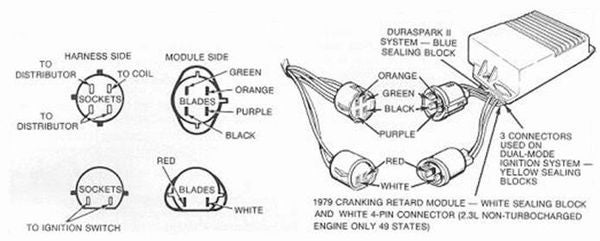 [edit]
Convert to a different control module
It is possible to use the Duraspark II distributor connected to a different control box. MSD Performance sells a simple electrical plug to interface a Duraspark distributor directly to one of their many performance oriented boxes. A Duraspark distributor can be connected to a Chrysler ignition controller.
More research is needed, but apparently the small sized "ignitor" from a late 1980's Mitsubishi/Mazda/Hyundais can be used. This ignition controller is known as a "J701".
Swapping to a GM factory or aftermarket HEI controller is another option. Details in the link below.
[edit]
References