Choosing a trailer
From Crankshaft Coalition Wiki
by: 41willys, Alittle1, Cobalt327, Deuce, Jon, Schnitz
(Click here to edit this page anonymously, or register a username to be credited for your work.)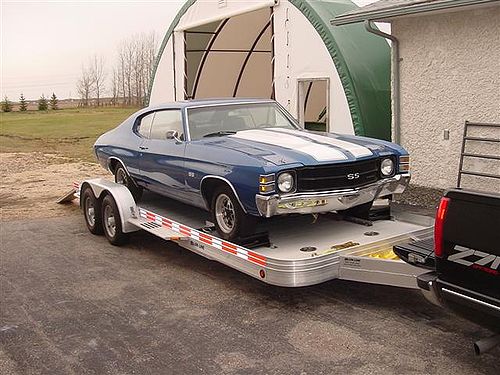 [edit]
Wood, aluminum or steel decking?
Trailer decking is typically either aluminum, wood, or steel. In addition, Rumber has been recommended as an alternative trailer decking solution. Rumber is "lumber" made from recycled tire rubber and plastics. According to the manufacturer, it's durable, non-slip, easy to clean, impervious to water, UV-resistant, and it will not crack, rot, or split.
Unfortunately rumber shouldn't be used for car trailers. The material can't take the concentrated weight that a car can place in such a small area without additional crossmember support, the original use for rumber was for horse trailers.
Therefore, steel decks or wood decks are the choice for car haulers. Steel decks are much easier to maintain and do not "rot". Wood decks are much easier to repair.
[edit]
Advantages of all-aluminum trailers
Light weight
More load capacity
Less rolling resistance equals better gas mileage.
Non-skid tongue and groove aluminum extruded flooring.
Low maintenance surface.
Maintains its value.
[edit]
Advantages of wood decking
Won't rust, can rot. Lighter than steel.
Your load won't slide around as much, and the deck won't get oily and slippery when hauling cars leaking fluids. Although, diamond-plate decks help with slipping.
Wood can loosen, crack, and warp. Fluids soak in, leaving a mess.
With a wood deck, you can screw things down to secure them.
Pressure treated decking can last up to 25 years.
Cracked or broken planks can easily be replaced.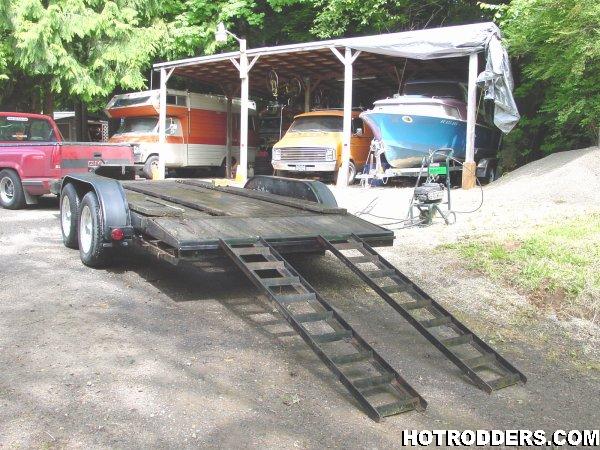 [edit]
Advantages of steel decking
Cheap to purchase.
Won't rot, but will rust if not suitably painted.
Provides a strong durable working surface with low maintenance and upkeep.
Comes in a variety of surfaces: smooth, checkplate, grate, etc.
Easy to modify, add accessories to, repair, change the appearance of.
Stands up to the abuse of dragging wrecks or loads on to it.
Surface may become slippery in wet or snow conditions.
Subject to rusting, can be powder coated or epoxy painted to resist rusting at a premium.
[edit]
Advantages of enclosed trailers
Safe and secure. Keep nosy people and thieves wondering. Makes for better piece of mind when you are stopped to eat or rest.
Useful as storage when parked.
Vehicle is clean when you get to the event.
Can provide accommodations as well as hauling vehicles.
Provides an elevated grandstand at sporting events.
Wall surfaces can be used to advertise or provide storage and work stations.
[edit]
Advantages of open-pit trailers
Less weight.
Oils and fluids leak onto the ground, rather than onto your trailer.
You can work under the car while it's on the trailer.
Are much easier to see what is all around it when empty.
[edit]
Coating a trailer deck
Whether your deck is wood or metal, it will need to be coated. The coating provided by the manufacturer is often inadequate. Ideally, coat the decking top and bottom. Recommended coatings: powder coating, bedliner, West System Epoxy, or this "farmer fix" method:
Change your tow car's oil, and save the oil. Add 1 quart of aluminum paint and one gallon of thinner, diesel, or any oil-based liquid. Brush it on with a shop broom, and let it sit in the sun for several days. As an alternative, half used motor oil and half diesel fuel has also been recommended.
[edit]
Buying a trailer
Buy a trailer that will suit your needs and your pocketbook.
Look for trailers to buy at race tracks. There are people there with a trailer and no car.
Torsion axle trailers pull better empty, and adjust their ride to the load they carry.
Buy a trailer with brakes on each axle, they are easier to stop and control in emergency situations.
[edit]
Enclosed trailer buying tips
V-nose trailers use less fuel to pull.
If you buy an enclosed trailer with a lay-down rear door, there are no ramps to load/unload or setup.
White enclosed trailers are cooler...temperature wise.
Dual axle trailers pull better than single axle trailers. Triple axles will scuff tires on tight turning but will even out trailer loading and balancing.
A metal floor is easier to clean after a spill or leaks
An electric winch is a good addition
Some trailers have a spare tire option in the floor, which is a good addition.
Most trailers come with a 3500 lbs axle or a 5200 lbs axle. The 5200 lbs option gives you bigger brakes and 6 lug heavy duty wheels.
Crawl under trailer to confirm axle ratings before purchasing. Don't just rely on nameplate rating.
[edit]
Wood trailer buying tips
Look for pressure-treated wood.
[edit]
Suppliers and manufacturers
[edit]
Trailer winches
Recommended features: free-wheel option to let the cable out, reel speed that isn't very slow.
When examining ratings: don't forget that drag weight and rolling weight are two different things.
Can be hooked up to battery, or powered through a 20 amp cigarette lighter plug.
A snatch block can be used to double the power of the winch.
[edit]
Towing recommendations
Practice driving with the trailer with no load on it, to see how it handles and brakes.
If the trailer is not level, it can hit a slight bump and "bounce" for a while.
Be wary of the tongue weight. It should only be about 10% of the towing weight.
Use a coupler that is rated for AT LEAST the load of a fully loaded trailer.
Make sure your trailer tire gross load ratings add up to the weight of the total load. Be sure to also use trailer-rated rims.
If the tongue weight is too much, try moving the car back on the trailer. However, be cautious, because with the weight in the rear, the load can weave.
[edit]
Braking
Always remember that you need more room to stop when towing, so leave a good gap in front of you when driving. One car length per 10 mph has been recommended. Other drivers have a tendency to pull in front of you into this wide gap, so be attentive.
An electronic proportional brake controller is recommended, such as the Prodigy controller from Tekonsha.
States have different requirements for brakes on axles. Ideally, you should have brakes on all trailer wheels.
Break-away switch and battery that dynamite brakes if trailer comes loose from tow vehicle.
[edit]
Securing your load
Chains and binders may be best, but sometimes can't be used if the paint will be damaged.
Cross the tie-down straps.
Check your straps and chains frequently as you stop, or if you hit a significant bump.
Use high-quality, high-rated straps for securing your load. Where a strap will be rubbing against steel, use a piece of cardboard as a buffer.
Tie-down loops or rails can be used for extra support. Rebar makes a decent tie-down rail, and the ridges on it provide traction for tie-down straps and rope.
Use tire hold-down straps to contain the front wheels of the hauled vehicle.
If at all possible, use "D" rings, floor mounted for extra security. Never "hook" to the deck's lower frame, or rails not intended for securing heavy loads.
[edit]
Miscellaneous towing tips
Tongue jack should be fixed at the top AND the bottom.
Removable fenders are helpful for towing lowered vehicles.
Torsion axles are recommended.
Carry a spare tire that fits the trailer.
Never, never exceed the load capacity of either the trailer, or the tow vehicle.
Always use the proper sized balls suited to the trailer class.
Avoid bargain brands, use one piece SOLID STEEL BALLS and safety chains.
[edit]
Miscellaneous trailer tips
A box on the tongue is useful for holding jacks, chocks, tie-down straps, hand tools, etc.
Some wood deck trailers are not pressure-treated wood, and won't last long at all. Replace cracked or rotted planks. Check trailer frame for cracks or separations, and repair immediately if any defects are found.
Balance load on trailer to keep tongue weight within manufacturer's specifications.
[edit]
Resources
[edit]
References
You can edit this article right now.
Just click the "edit" tab at the top of this page, or click one of the [edit] links to the right of an article section.
For more info, see Help:Editing pages.