Chevy 305 engine
From Crankshaft Coalition Wiki
by: Cobalt327, Crosley, JJLT1, Jon, LT1Silverhawk
(Click here to edit this page anonymously, or register a username to be credited for your work.)


Overview
The Chevy 305 small block has got to be the Rodney Dangerfield of SBC engines. It is often given a bad rap as a performance engine and this causes would-be 305 engine builders to shy away from them. There are good reasons for this- mainly the ready availability of 4" bore blocks. But while the 305 does have a small bore (3.7 and the blocks are all 2-bolt bottom end, they are otherwise identical to the 350 SBC.
Once the small bore is taken into account and properly dealt with by the choice of parts that will help the engine, instead of using a head with a too-large intake valve for instance, this engine can make the "magical" 1 hp/ci without a lot of effort.
Background
Production of the 305 was from 1976 to 1992. There had been a progression in displacement that began in 1957 when the 265 became the 283. This displacement creep upward was due to a changing market, vehicle weight and performance. At about the same time as the 307 was dropped at the end of '73, emissions standard and a continued increase in vehicle weight brought about the need for an engine in between the 307 and the 350.
The 305 was made by using the same stroke as the 350 but with a smaller bore. The 305 bore is very close the the 265 bore of 3.75" and is the smallest SBC bore except for the short production 262 and 267. The thinking was that the engine would produce enough torque at a low enough rpm to meet the needs, and the small bore would help meet emissions standards. It is also thought by some that gas mileage was a consideration, but if this is true the 305 failed for the most part in that category.
305 engine dimensions
3.736" bore, will go 0.030" over, a 0.060" overbore should be sonic tested according to some machinists
3.48" stroke, same as the 5.7L 350ci and the lame 267 SBC
Rod length is 5.7", same as all SBC engines except the 400
Large journal crank (or medium journal if you consider the 400 to be large journal instead of calling it a 400 journal)
305 SBC block casting numbers
Casting Number
Year
Casting Number
Year
355909
1976-'85
14010231
1978-'86
361979
1976-'79
14016381
1980-'84
460776
1976-'79
14016383
1978-'88
460777
1976-'79
14049047
1978-'86
460778
1978-'79
14088551
1986-'92
581671
1976-'85
14093627
1988-'94
14010201
1980-'84
14094766
1988-'94
14010202
1980-'84
14102058
1987-'88
14010203
1980-'84
305 RPO codes
LE9 (LF3 CA), 160 HP/235 TQ, K10, 1981-'86
LG9 2bbl, 130 HP/240 TQ, K10, 1981
LO3, TBI, 170 HP/260 TQ, V10, 1987
Changes
Like the 350, most 305's beginning in 1987 got revised block castings and machining that allowed the use of a hydraulic roller cam and lifters, along with a 1-piece rear main seal and the 72 degree intake manifold center bolt angle. Exceptions to this were the TBI truck engines, which retained a flat tappet cam.
In 1996 the 305 got different heads and induction system.
Cost
The 305 is cheap and plentiful. The cost to rebuild is about the same as the 350 but piston selection isn't as good as for the 350 and there is a definite lack of aftermarket support for cylinder heads. Regardless of the cost to rebuild the 305, the power-per-dollar is less for the 305 than the 350. In practice, there seems little real advantage in gas mileage over the 350, but you may get less costly insurance rates.
Design considerations
The 305 engine is much-maligned and shunned as a performance build, mainly due to its small bore diameter of 3.736" which limits breathing. Limited breathing limits naturally aspirated power potential. The primary appeal of the 305 may be due to its "underdog" appeal, or its low cost, or maybe because that's what is on hand at the time. Unless you already have a pre-'87 block, the '87-up block is preferred because of the one piece rear main seal, and the cast-in provisions for the factory hydraulic roller lifters and thrust plate for the cam (although not all blocks were provisioned for a hydraulic cam, most were). Also, these later blocks tend to display less bore wear from carb-related fuel washing of the cylinders, because most were EFI.
Cylinder heads
The chamber volume is less than the 5.7L heads, around 55cc to 58cc depending on the casting. Like any head the chamber volume has to be measured to know for sure what the volume is. The biggest production 305 intake valve is 1.84". The largest practical intake valve size is a 1.94", and the chambers need to be unshrouded for these to flow their best. In cases where there is no problem losing a little compression ratio, the cylinder bores can be slightly notched (like was done with some Pontiac and BBC engines, to name two) to help the intake flow.

Note: Just be sure the relief doesn't reach the top ring with the piston at TDC and that the relief does not go under the fire ring of the head gasket! Use a head gasket as a template on the head and block so the combustion chamber and the cylinder reliefs match and don't intrude on the fire ring of the head gasket.
Pre-Vortec heads
The heads were similar to the 350 except for having a smaller combustion chamber volume, and smaller intake valves (1.72" or 1.84", depending on the application). 305 engines even got the same swirl port type heads for TBI applications, again same as the 350.
Swirl-port, pre-Vortec heads were used on many TBI 305 engines, and do not respond as well to porting and 1.94" intake valves as the non swirl port heads.
Good 305 head casting numbers
14101081 These were supposedly used on 1987 305 engines, 1987-'94 or '95, and TPI 305 engines from 1986 or '87 to 1991 or '92 (depending on the source). Sometimes called "center bolt HO" heads, referring to the valve cover attachment used on 1987-up SBC engines. While they do resemble the "real" HO heads (c/n's 601 and 416), the vehicles they were used on (1987 LG4, TPI 305 from 1987-'92, and the 1987-'88 L69 and LG4 used in the Monte Carlo) never had an HO designation. They came with 1.84" x 1.50" valves and use center bolt valve covers.
14014416 Another common 305 head for performance use. 1980-'86 "HO" heads. Nominal 58cc combustion chamber volume, 1.84" x 1.50" valves.
14022601 1979-'86 These also respond well to porting and 1.94" intake valves.


Note: Don't confuse these heads with c/n 3910601 heads used on 1967-'68 327 engines.
10088113 These are aluminum heads used on about 1988-'92 Corvettes and the ZZ4 crate engine. They have 1.94" x 1.50" valves and a 58cc chamber with angled spark plugs. They use the pre-'87 style intake bolt pattern.
Porting
If you've done well practicing on a junk head, then this is worth trying. Taper all the guide bosses, except in the Vortec 350 intake ports. Ever so lightly, blend the 75-degree cuts into the ports, too.
A 30-degree back-cut on the valves will help flow. The seats can be cut with standard 30/45/60 degree angles, as far out on the valves as possible. Next is a 75-degree cut that goes as deep as possible into the bowl, below the bottom 60-degree valve seat angle without hitting the guide boss, while simultaneously narrowing the 60-degree cut to about 0.050"-0.055".
Unshrouding the intake valves needs to be done if larger valves are used.
Polishing the intake ports is not advised. Doing the chambers is good if you protect the seats. Doing the exhaust ports is great. Gasket-matching the ports isn't necessary, and for the exhausts it's not helpful, either.
Vortec heads
L31 5.7L 350 heads
The L31 5.7L Vortec head can be used on the 305. The stock combustion chambers are too large as-cast, so they need to be milled if used on a 305. More info on them can be seen at Vortec L31 cylinder head.
L30 5.0L 305 heads
In 1996 the 305ci RPO L30 engine got different heads than were used previously. These heads featured revised intake bolt pattern and a small swirl vane in the intake port (the swirl vane is much smaller/different that what's used on the swirl port heads).
Unfortunately the '96-up 305 Vortec heads did not get the same combustion chamber design (right) as the 350 Vortec heads. However, the 305 Vortec combustion chamber is similar to the swirl port head, which is an improvement over earlier heads. This chamber design places the spark plug more towards the center of the chamber and slightly biased towards the exhaust valve, all of which are improvements over the old smog castings.

The L30 heads use self-aligning rocker arms and the same center bolt valve covers like used since '87. They also use the same intake bolt pattern as the L31 5.7L Vortec heads, but have a smaller chamber volume (~58cc) than the 5.7L Vortec heads. The ports are a bit smaller as well (~160-165cc).
In addition to casting number 12558059, there is c/n 12552520 listed in the databases as a '96-'97-up "Vortec" head, comparable to the c/n 059 head by all appearances.
Swirl-inducing vane
While the 305 Vortec head has a swirl vane in the intake port, it is much smaller than what's seen in the 5.7L swirl port heads like the c/n 191 and 193 heads.
L30 Vortec head flow
| Lift (in.) | Intake (CFM) | Exhaust (CFM) |
| --- | --- | --- |
| 0.100 | 68 | 47 |
| 0.200 | 128 | 103 |
| 0.300 | 179 | 138 |
| 0.400 | 205 | 152 |
| 0.500 | 221 | 163 |
Source: Stan Weiss flow chart
305 Vortec donor vehicles
The following list is for L31 5.7L donor vehicles. But some/all of the same vehicles may have been available w/the L30 305 engine:
1996-2002 Chevrolet Express/GMC Savana full-size vans
1996-1999 Chevrolet/GMC C/K full-size trucks
1996-1999 Chevrolet Suburban/GMC Suburban full-size long wheelbase SUVs
1996-1999 Chevrolet Tahoe/GMC Yukon full-size short wheelbase SUVs
305 heads to avoid
376450 have 1.72" intake valves
354434 and others are 2 bbl heads, and have 1.72" intake valves. Best to just avoid these altogether since other, better heads are readily available.
14102187 Swirl port heads used on some 305 TBI engines
10110810 1986-'91 swirl port
Aftermarket 305 heads
Block preparation
If you are going to have a 305 block bored oversize, always bore to the next smallest oversize. If you can get away with a 0.020" overbore, all the better.
Pistons
Use the same guidelines as you would for a SBC 350 for selecting the type of piston. Cast are fine for engines that won't see nitrous or boost, forged if it will. There are those who say using cast pistons and nitrous/boost is acceptable. And it is- providing the tune is spot on and the engine never sees detonation. If it does, the cast pistons will be the first thing to fail, and when they go they usually damage the bore and possibly the cylinder head as well. This is because cast and hypereutectic aluminum alloys are brittle and when they fail they tend to shatter into many pieces, where a forging will generally stay in one piece, with pinched ring lands or depressed crowns, etc.
The worst possible piston design if a dished piston is needed is a round dish with a 45 degree chamfer around the outer edge. That leaves a scant 1/2" band on the top of the piston to provide the quench effect, and that's just not enough.


A much better choice if a dished piston is needed is a reverse dome or D-cup type piston (the one below is for a SBC 383 stroker).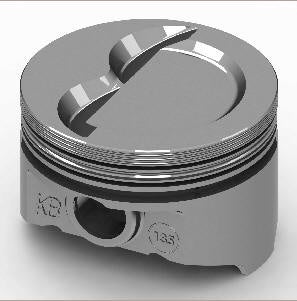 Intakes
1986-back heads use a "regular" intake 1987-'95 heads use straight center bolts 1996-'02 heads use the Vortec bolt pattern Also see Intake manifold
Car Craft 305 build-up
From "305 Chevy Small-Block Engine Build - 305 Chevy", "Car Craft", March 1999
305 build up, part 1
Car Craft started out with an 80,000 mile (130,000km) 305 LG4 engine from a 1982 Camaro. They removed the engine from the Camaro and put it straight on the dyno with headers, 3" dual pipes to Flowmaster mufflers, and a HEI distributor with 22 deg total advance. This gave a baseline dyno result of:
197 HP @ 4,000 rpm. 261 ft/lb torque @ 3,100 rpm.
305 build up, part 2
Added an Edelbrock Performer EGR intake manifold, but with the EGR blocked off.
217 HP @ 4,200 rpm. 285 ft/lb torque @ 3,300 rpm.
This is an increase of 20 HP and 24 ft/lbs over stock.
305 build up, part 3
Replaced Edelbrock Performer EGR intake with an Edelbrock Victor Jr single plane intake manifold. Replaced Q-Jet carb with a 750 Holley double pumper.
217 HP @ 4,200 rpm. 285 ft/lb torque @ 3,300 rpm.
This resulted in no change from the previous mods, maintaining the increase of 20 HP and 24 ft/lbs over stock.
305 build up, part 4
Added Comp Cams XE262H-10 "Xtreme Energy" hydraulic flat tappet cam. 218/224 duration @ 0.050, .462/.469 lift, 110 deg LS. Set initial timing to 16 deg BTDC.
270 HP @ 5,100 rpm. 291 ft/lb torque @ 3,800 rpm.
The cam change resulted in a huge increase of 53 HP. Torque was up by 6 ft/lbs.
305 build up, part 5
Replaced stock cylinder heads with World Products 305 S/R Torquer heads.
298 HP @ 5,500 rpm. 308 ft/lb torque @ 3,900 rpm.
A 28 HP increase over the stock heads, and the 305 engine now has close to 300 HP.
305 build up, part 6
Replaced World Products 305 S/R Torquer heads with '96 - '97 Chevy truck L31 Vortec cast iron heads, GM P/N 12558060. These are available from GM dealers in the USA for US $408 a pair, fully assembled. The Vortec heads require a different intake manifold, and Car Craft chose an Edelbrock Super Victor. They kept the same Holley 750 DP. Car Craft says that these heads are a bolt on for conventional small block Chevy engines. If your engine is earlier than '87, you will also need a set of self aligning rocker arms, and a pair of "center-bolt" valve covers.
325 HP @ 5,800 rpm. 317 ft/lb torque @ 4,800 rpm.
Tech comments
With peak torque at 4,800 rpm, the 325 HP 305 would definitely need some stiff rear end gears (I'd suggest a minimum of 3.73 ratio) plus a high stall converter if the car had auto trans. In my opinion the WP Torquer heads are the better choice for a street engine. I think that a 300 HP 305 with 308 ft/lbs torque at 3,900 rpm, would be a nice street / strip combination.
However, it stands to reason that the use of the Edelbrock Super Victor intake mated to the Holley 750 DP carb was a poor choice for this particular engine combination despite the seeming parity between it and the Edelbrock Performer intake and Q-jet carb that was shown in tests #2 and #3. Given the engine displacement, cylinder head flow, cam specs and the effective RPM range of the Super Victor intake, a much more street friendly combination could have been selected. The power "under the curve" and the average power would be much better using a dual plane up to and including the Edelbrock RPM or similar intake manifolds, used with a vacuum secondary or air valve-equipped carb properly sized for the application. Better idle vacuum, crisper off idle response, and better economy would also result from these changes.
The only possible benefit of using the open plenum Edelbrock Super Victor intake and a 750 DP carb would be at the peak of the power curve- if that. This is a tactic that the car mags will employ to give the best peak numbers- but at the cost of the power curve everywhere else.
Parts suppliers
Resources
Other articles