Chevrolet restoration packets
From Crankshaft Coalition Wiki
by: Cobalt327, Jon
(Click here to edit this page anonymously, or register a username to be credited for your work.)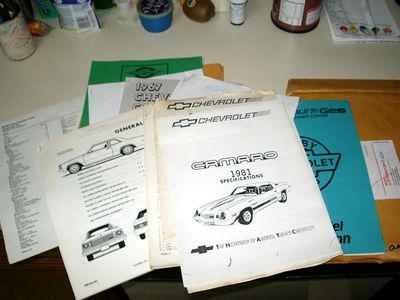 [edit]
Basics
General Motors has "restoration packets" available for many vehicles. These typically include chassis and body dimensions, serial numbers, identification information, engine data, and other information useful to hotrodders and restorers.
Ask for a "restoration packet". Have the vehicle's VIN ready, as well as a mailing address.
These were initially free from Chevrolet. Now, they are reportedly $50 (price needs confirmation/verification). However, OldCarManualProject.com has many of them available for free online.
For Canadian GM vehicles, the price is $35 for vehicles 1963 and older, and $55 for vehicles 1964 and newer.
Stovebolt.com quotes GMCanada.com as saying:
"We can not access U.S. production information prior to 1977, as we can not find any anywhere, and we have tried. Vehicle specific information (options, production date, selling dealer, etc) is available for U.S. produced and sold vehicles 1977 and newer. However, because all this data is stored in archives, there would be a fee of $137.80 to retrieve and decode this information. (GM charges us to retrieve it from archives.) We have our own Canadian vehicle database. Fees are currently $37.10 for Canadian produced / sold vehicles for which we have no option information (about 1966) and $58.30 for newer vehicles."
[edit]
Trucks
Resto packs 1928; 1937-'42; 1946-'58; 1959 trucks
[edit]
Contacting Chevrolet
[edit]
Customer service numbers
EST hours are: 8 am - 5:30 pm Monday through Friday.
US: (800) 222-1020
Canada: (800) 263-3777
International: (904) 444-2566. A shipping charge may apply.
GM Customer Service
Chevrolet
P.O. Box 33170
Detroit, Michigan 48232-5170
A shipping charge may apply.
[edit]
Resources
[edit]
References