Building an inline 6 Chevy 250 engine
From Crankshaft Coalition Wiki
by: Cobalt327, Crosley, Jon
(Click here to edit this page anonymously, or register a username to be credited for your work.)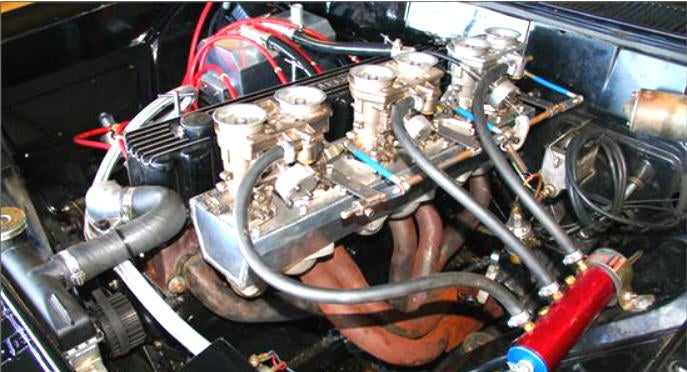 [edit]
Introduction
The Chevy inline 6 has been around in one version or another since 1929 until 1990 in North America-market vehicles. During the fall of 1961, a modernized version of the six was introduced (with the Chevy II) which has 7 main bearings and a short deck displacing 194 cid - the rear block face was redesigned with a bellhousing pattern which matched the Chevrolet V8s in production (both the small block and W-series) - transmission bellhousings for the V8 (both manual and automatic) were shared. The Chevy straight 6 250 cid engine was brought out in 1966. It has a 0.280" longer stroke (3.53") and the same bore (3.875") as the 230 cid straight 6. It boasts a 7 main bearing bottom end- quite an improvement over the previous generation inline's 4 main bearings. Although production ceased in 1990 for automotive use, the inline six was produced overseas in Latin America for Brasilian-market GM products until the 2001 model year. 250 production ended in 1984 but the 292 tall deck engine remained in production in Mexico until 2001.
[edit]
Some things to consider
Building a straight 6 250 is not any harder to do than any other inline 6, be it a Ford or Chevy, GMC, etc. Parts aren't as common for the inline 250 as they are for a SBC, but there is info and quite a few suppliers for parts, as well as places that cater to almost nothing but the Chevy inline 6 engines.
The inline 6 Chevy 250 should not be compared to a SBC engine. Besides the obvious differences, they share practically no parts w/the V8 engines (save for the oil filter (AC Delco PF25 or equivalent) and some of the valvetrain (the rocker arms do not interchange with the Chevrolet V8 (all series). Because of this fact expect it to cost more per horsepower than a Chevy V8. The reward is this is not a "belly button" engine; instead it is considered "old school" and has cred because of what it isn't as much as for what it is.
To the right person, building a 250 Chevy 6 can be just as rewarding as any other engine, and if parts are selected in a coordinated manner and the engine used in a way that accentuates its strong suits- like dependability and good lower RPM torque production for its size- a very satisfying result can be had.
It's a fool's mission to build a NA inline 6 like the Chevy 250 expecting to run amok on all the SBC and SBFs out there. Not only will the results be very humbling, but the amount of money that would need to be spent in order to go toe-to-toe with a SBC 350 will break most people's budget all to hell. So instead of trying to beat the world, it may be much more satisfying to build a Chevy 250 to make around 0.8-1 HP/cid (~200-250 HP), and revel in the uniqueness of it and enjoy as torquey, strong running engine that has a sound and look all of its own.
Given enough time, effort and cash, an inline Chevy 6 can make >/= 2 HP/ci naturally aspirated and far more than that using a turbocharger. Superchargers can also be used, but the turbo is the preference of many who are going for boost.
[edit]
Engine ID
[edit]
Casting numbers, date codes, and suffix codes
Obviously casting numbers and VIN stampings can be a big help. Chevy inline 6 casting numbers can usually be found just above the starter on the passenger side of the block.
On the block there will be foundry ID codes, for instance "CON3". This is no help in ID'ing the engine.
There may be a date code cast into the block. Example- "A 30 2": Jan 30 of a year ending in 2. If the engine is a 250, that would be 1972.
The suffix code (also called the "application" code) will be at the end of a string of letters and numbers (that's why it's called a suffix). The suffix string is usually a letter followed by a date code, followed by 1, 2 or 3 letter code. This is found in the area near the distributor, above the fuel pump. The suffix string of letters/numbers are always stamped in, not cast into the block like the date code or foundry ID code.
There may also be a partial VIN number stamped in a separate string of numbers near the suffix string. If the block is missing the suffix and partial VIN, there's no way to know what the engine might have come in originally, unless there were other external clues like a carb w/a governor on it (would be on a heavy truck or bus), or if it had a large bellhousing and a HD "granny low" trans (also HD truck/bus application). If the crankshaft has a pilot bushing in it, that would mean it had been used with a manual trans- although this could have been added later.
See below under Resources for sites that have casting number info.
[edit]
Deck height
The deck height of the Chevy 230 and 250 inline 6 engines is shorter than the 292 inline 6 engine. That means the pushrod cover is shorter on those engines than on the 292 Chevy 6, as seen below. The RH engine mount is located a few inches forward of the smaller displacement engines. Some 292s (and a few 250s used in truck/van applications) used a 90 degree oil filter adapter where the filter is pointing downward (same as the Chevrolet V8) - these blocks have a 3 bolt boss (some blocks have this area unmachined where the holes can be drilled out).
[edit]
Cylinder heads
The integrated intake head used with the 250 (except the 292 which retained the separate intake) between 1975-1984 isn't well suited for performance duty. About all that can be done for a head with this intake, is the 1 barrel can be swapped for a 2 barrel by using an adaptor. Integrated intake cylinder heads had one-barrel carburetors until the 1979 model year (the light trucks with the 250 used a Rochester Varajet 2 barrel from 1979-84 which is not performance oriented. Not the hot ticket. The lump port mods along with porting, larger valves, etc. can be done to ANY head, but without the ability to use a high performance intake, these mods would be largely wasted.
Using the earlier head (or one from a 1975-1990 tall deck 292) with the detachable intake from a 194, 230 or 250 cid inline Chevy 6 offers a much better platform. Because of the current lack of aftermarket support for inline Chevy 6 cylinder heads, the hotrodder is left with the removable intake head from the early/mid '70s as the best choice for performance use, unless the cost of a custom head can be justified.
In the past there were heads made for the Chevy 6. Now there are one-off heads for the Chevy inline 6 that have been made from 2 SBC aftermarket aluminum heads that have been divided and welded back together. Another hybrid cylinder head is usually made from two Vortec 3.0 (181) used in marine or industrial applications - the 3.0 is based on the Chevrolet 153 engine first used in the 1962-67 Chevy II and some 1968-70 Novas (including the Chevrolet/GMC G-series vans (1964-66) and the Jeep DJ-5 (1968-70) used by the United States Postal Service).
A relatively easy to find head to swap on the 250 inline Chevy is casting number 3864883 from a 194 cid Chevy inline 6 engine. If it's milled 0.060", it will give about 10:1 compression on a Chevy 250 using stock type pistons.
[edit]
One-off custom aluminum head
The head shown below was made from a pair of Pro Topline SBC heads cut and welded to make them into an inline six head destined to be used on a 292 Chevy block.
Just goes to show you what can be done with enough skill, tools, time and dedication.
Kay Sissell has also done some custom heads for the inline Chevy six. He now offers ported cast iron heads and other parts.
[edit]
Intake port mods
The Chevy 250 head has a "3-port" intake. That means two ports are siamesed into a single port. This design, while fine for a daily driver or truck, leaves a lot to be desired for high performance work.
So it comes as no surprise that improving the intake port flow will help power. A big improvement to the Chevy inline 250 cylinder head is to install an intake port "lump". For years, these were one-off, hand-made pieces that were quite a chore to fabricate and mount. Some were better than others, and some were worse than nothing. Nowadays, T6 Racing and 12Bolt have designed a lump kit and can supply all the necessary tools and info to install it. It is cast and machined pieces of metal that fit onto the intake port floors to vastly improve flow.
[edit]
Head torque specs
Inline six head torque/sequence
[edit]
Intake manifolds
Beginning in the mid-'70s, the inline 6 Chevy (with the exception of the tall deck 292) got an integrated intake cylinder head similar in design to the Ford Falcon Six. This was a step in the wrong direction for a performance engine- the intake being cast as part of the head means it would take too much work to remove it to be able to use any kind of 4-barrel carb.
But the detachable intake head can be fitted with a large variety of intake manifolds from the cast iron stocker to custom EFI (including multipoint fuel injection setups e.g. the use of Jeep 4.0 fuel injectors and the use of the Jeep throttle body requiring the use of a custom fuel rail and modifications to the intake manifold), IR, 4-barrels, staged 2 barrels, multiple carbs from Stromberg 94/97s to Weber's, to name a few.
(GM do Brasil did manufacture multipoint fuel injection (with revised cylinder heads using the separate intake manifold) for the 250 - Brasilian market Chevrolets (Brazil-market Chevrolet Omega and its local produced GMT400 trucks had the 250 (4.1L); production ended in 2001.)
The stock intake uses the exhaust manifold to provide heat to the intake, but if aftermarket exhaust headers and/or intake manifolds are used, this feature will be missing. For many applications that will see daily driver duty, an aftermarket intake equipped with hot water heating of the plenum is a plus.
If making all the power possible is the goal, an intake without hot water heating would be the better choice.
The inline Chevy 250 was equipped with several different carbs through the years, from a single 1 barrel carb to a staged 2 barrel Rochester VaraJet carb.
As mentioned in the Intake section, there are a large variety of aftermarket intakes that will accept an equally large number of carbs.
One of the best carbs for a warmed-over 250 Chevy 6 is the 390 cfm Holley 4 barrel. It has enough flow for most applications, yet has good throttle response when used on smaller displacement engines. Repair and tuning parts are readily available and they're well understood by most rodders.
The Weber induction set-ups are equally responsive, but at a much higher initial cost. The Weber 38-38 2 barrel is said to be a good compromise between performance and economy when used on an aftermarket intake.
[edit]
Camshafts
There are still manufacturers stocking cams for the Chevy inline engines.
[edit]
Timing gears
The Chevy inline 6 uses a pair of gears and no chain to turn the camshaft. There are high performance gear sets available from Comp and others. The cam gear on aftermarket performance timing sets is often aluminum. The undesirable gear set with the micarta (plastic) cam gear is best avoided - these were used during the mid-1970s - mid 1980s with the 250 and 292 in both passenger cars and light trucks.
[edit]
Exhaust manifolds
In the past, a stock single outlet exhaust manifold was "split" to run two exhaust pipes from the manifold. This helped performance somewhat. Eventually the aftermarket came out with manifolds made for the inline Chevy.
The closest thing to a factory high performance exhaust manifold would be the 1966-'69 Pontiac OHC Sprint engine's split manifold. This was actually a nice piece, but the OE exhaust pipes were pinched where they came together, creating a restriction (see photo below). If this was removed by running dual round exhaust pipes from the flanges back, they worked very well. A distant second to the Sprint exhaust manifold is the 1967-'74 292 exhaust manifold with a 2.5" outlet from a heavy duty application (large truck/bus).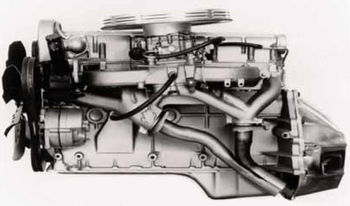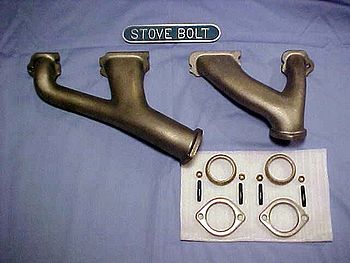 [edit]
Headers
Headers are going to give an improvement over what can be expected from a cast iron manifold- especially a stock one. Heddman and others can supply them.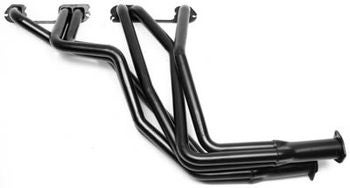 [edit]
Resources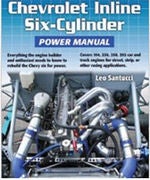 ID'ing the Chevy inline 6
[edit]
Parts and info
You can edit this article right now.
Just click the "edit" tab at the top of this page, or click one of the [edit] links to the right of an article section.
For more info, see Help:Editing pages.