4-link suspension
From Crankshaft Coalition Wiki
by: Alittle1, Cobalt327, Crosley, Jon
(Click here to edit this page anonymously, or register a username to be credited for your work.)


This page may have copyright issues.
Please cleanup and edit as necessary to avoid copyright conflicts.
For details, see our copyright policy.
The 4-link rear suspension
The four-link rear suspension is designed to locate the rear axle with four links, two on each side. Besides these links controlling and transmitting the loads placed on the axle during acceleration and braking, the bottom links also control the axle placement front to rear. The upper links keep the axle from rotating and keeps the pinion angle consistent.
A 4-link uses a Panhard bar or Watt's link (also used on other rear suspension set-ups) to laterally locate the rear end. The Panhard rod is used on many production vehicles that use a solid rear axle because it's simple yet effective, although a Watt's link is considered to be more adjustable/tunable than a Panhard bar.
A 4-link suspension can give an adjustable ride height, an adjustable roll center, and offers a nearly infinite number of possible adjustments that allow the chassis to be fine tuned. There is a lot of latitude in the basic design of a 4-link suspension to provide the desired road handling characteristics that will compliment most any driving style. A 4-link suspension can give a supple ride as opposed to ladder bars, which can be rather harsh on the street and a 4-link can even rival a leaf spring suspension for smoothness, while eliminating traction reducing wheel hop.
Types of 4-link suspensions
Basically there are two main types: parallel and triangulated.
Parallel 4-link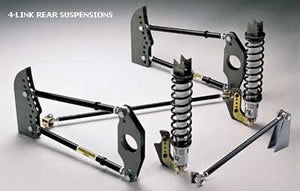 The image above shows the parts of a 4-link suspension system, laid out as it would be installed on the rear chassis and axle housing. Note the two pairs of links, the coil-over shocks and their mounts, and the Panhard bar in the rear.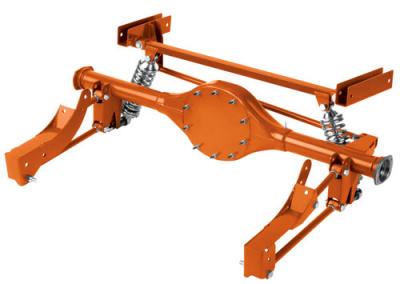 Above is a parallel 4-link with a different appearance. This one is made for the 1963-'65 Ford Falcon and in this case is made to be bolted rather than welded. Also shown is the shock absorber/coil-over crossmember.
Triangulated 4-link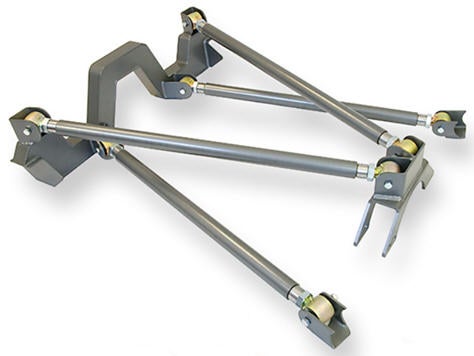 Another design is the triangulated 4-link, one version seen above. In this design the upper links angle inward from the frame rails to the center section and serve to locate the rear end housing laterally so a Panhard bar or Watt's link is not needed. The lack of a Panhard bar or Watt's link can offer more clearance for the exhaust system or a fuel tank, etc., and generally looks cleaner/less cluttered.
The triangulated 4-link has been used by the OM's (Fox platform Fords and 1978-'88 GM G-bodies to name two) as well as sold in the after market by several vendors. While it has its advantages of a simpler, less cluttered look, one downside to it is called "roll bind". This is where there is a heavy lateral corning force applied to the rear end that basically binds up the action of the suspension. This can be controlled by using strong, high quality Heim joints and/or urethane bushings that have much less deflection, instead of the OEM-type rubber bushings.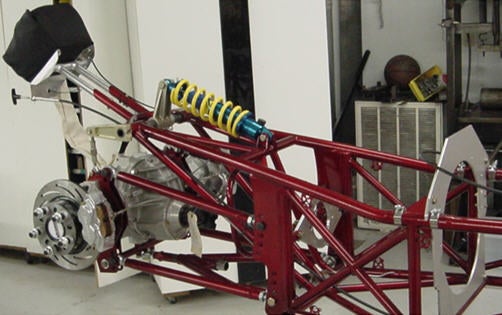 Above is a Mike Bos Chassis Craft rail dragster 4-link complete with a monoshock and rocker linkage connected to a Strange modular 4-link rearend housing.
Suppliers
Resources
You can edit this article right now.
Just click the "edit" tab at the top of this page, or click one of the [edit] links to the right of an article section.
For more info, see Help:Editing pages.