Torque converter lock up control 700R4
From Crankshaft Coalition Wiki
by: Cobalt327, Crosley
(Click here to edit this page anonymously, or register a username to be credited for your work.)


You can edit this article right now.
Just click the "edit" tab at the top of this page, or click one of the [edit] links to the right of an article section.
For more info, see Help:Editing pages.
Converter lock up wiring
Basic wire diagram
This is a simple 12 volt circuit. 12 volts to the solenoid and you need a ground to complete the circuit. If you do not understand basic wiring, get some help from someone with transmission / automotive wire knowledge.

When the brakes are applied the relay switches to pin 87 and the circuit is broken, this cancels the 12 volts to the transmission. The converter clutch is then unlocked.
Common type Bosch relay used.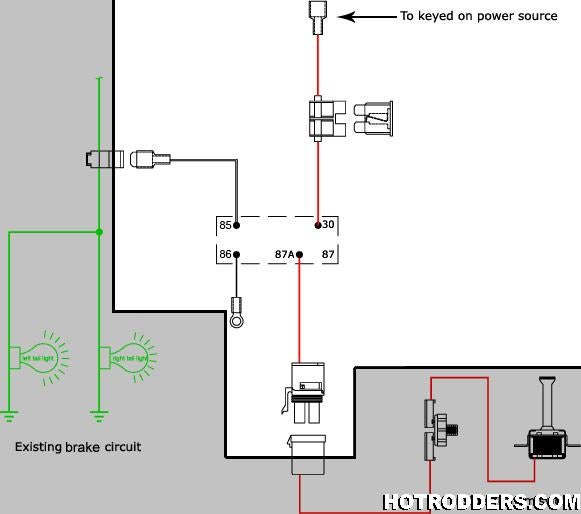 Pressure switches
Notice these are silver in color. This means they are NO = Normally Open. When pressure is applied the switch closes the internal contacts to complete the circuit. Both of these pressure switches are "on -off" design. Pressure turns them "on", no pressure they are "off"
The pressure switch with 1 pole on it is self-grounding. This means the wire you hook to it is going to be grounded when pressure is applied to the switch. The 2 post switch , the voltage is passed through the switch via the dual terminals
This design switch is not for external use on the outside of the transmission case. They have bleed holes in them. You need switches rated for external use on the outside to avoid oil leakage. Photo of a pressure switch with two post connectors. This routes the 12 volt power through the switch to a single wire lock up solenoid.
Lock up solenoids
1 wire solenoid, early design
more common 2-wire solenoid late design
Solenoid on the left has 1 red wire. This is a self-grounding lock up solenoid. The 2-wire solenoid has a red wire and a black wire. Red is for 12 volts, black is for ground.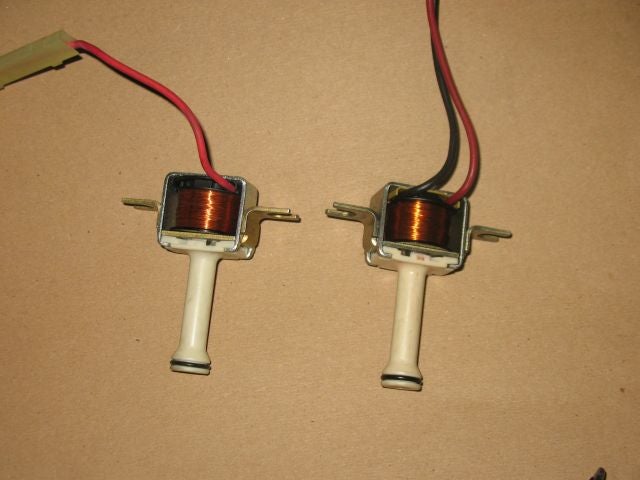 Valve body location for switch
Location for pressure switch on valve body for 4th gear lockup only of the torque converter clutch (TCC). This location has pressure when the transmission is in 4th gear.