General Motors transmissions
From Crankshaft Coalition Wiki
by: Alittle1, Cobalt327, Crosley, Curtis73, Jon, Mmerlinn, Timothale
(Click here to edit this page anonymously, or register a username to be credited for your work.)


Overview
First, a transmission is a way of applying torque from an engine through a differential to a wheel, causing forward (or reverse) motion of a standing body.
This article will concern itself with the different types of transmissions used by General Motors, and their physical and mechanical properties.
Types of transmissions
Standard
Three speed
From a 1964 Nova 342 Saginaw.
3-speed manual overdrive units
How overdrive works
The governor powers the solenoid in the mid 20's MPH, you have to let up on the gas pedal to let it shift up. When you push the pedal to the floor the kickdown switch cuts off the power to the solenoid and temporarily cuts off power to the ignition coil so the engine stops running for a second or two. This lets the spring on the solenoid retract and shifts out of overdrive. When you drive less than the governor speed setting in overdrive it cuts off power to the solenoid.
If you are going up a hill and the car does not coast the solenoid will not retract and you will still be locked in overdrive. When you are in overdrive you can not go backwards. This was called the "hill hold" feature.
The pull out T-handle is used to lock up the trans into regular 3-speed mode. This is useful when pulling a trailer uphill and important when going down hill. If the handle is pushed in you can coast and not have any engine braking. When you were cruising and in overdrive second gear and some one pulled along side and wanted to race you could stick your toe under the gas pedal and push down on the kick down switch to gear down before hitting the gas and opening all three carbs.
When you wire in a toggle switch to operate the relay to power the solenoid you could shift it into overdrive in any gear and not have to be above the governor speed in first gear. Just like driving a big truck with a two speed rear end. Just remember you have to let up on the gas to let it shift up into overdrive and when you turn off the switch you also have to let up on the gas to let the spring retract the solenoid to shift out of overdrive. If you leave the switch on and are in overdrive you can not shift into reverse and you cannot roll backwards.
Rebuilding the Borg Warner overdrive
Four speed manual transmission identification and description
Three common 4-speed transmissions
Muncie 4-speed
Muncie reference material
Saginaw 4-speed
Borg-Warner 4-speed
Borg-Warner reference material
Five speed
Six speed manual
GM used three basic 6 speed manuals over the years:
ZF S6-40
Borg Warner/Tremec T56
New Process/New Venture NV5600 in trucks
German ZF S6-40
Starting with the 1988-'96 Y-body (Corvette), a German ZF 6-speed was used, designated S6-40. It was stout and reliable, but its limited use and short production run didn't support wide aftermarket solutions. In fact GM didn't even stock service parts for the transmissions, instead opting to provide remanufactured units instead of repairing them. Although it ended up costing GM less in the long run, it was a concept not warmly received by the public. Early models were rated for 400 ft-lbs, and later models were rated to 450 ft-lbs.
ZF 6-speed ratios are as follows:
Reverse - 2.50
First - 2.68
Second - 1.80
Third - 1.29
Fourth - 1.00
Fifth - 0.75
Sixth - 0.50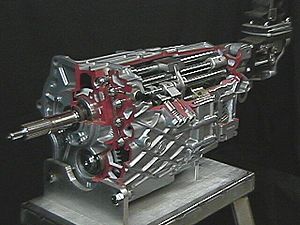 Borg Warner/Tremec T56
Starting with the 1992/1993 GM F-body (Camaro, Firebird, Trans Am) the six speed was a Borg Warner-designed, Tremec-built T56 transmission. Although the basic design, case, and internal operation were the same, three different ratio gear sets were available in GM applications. In 1993, F-body cars were equipped with two optional rear axle ratios: 2.73 and 3.23. Beginning in 1994, all T56 cars used the same ratio gear set regardless of rear axle ratio. 1992-1993 T56s with the lower gear sets had a slightly lower torque capacity in the 350 lb-ft range while 1994-later (high) gear sets reduced the side loads on the case and were rated to 450 lb-ft. T56 use continued like this until 1997 when it also started being used in the Y-body (Corvette) as a rear-mounted transaxle, and continued on in F-bodies behind the LS1 until the end of their production.
Of note is the fact that all T56 transmissions share an interchangeable main case; even those found in Holdens, Fords, Vipers, and Aston Martins. What differs is the front adapter plate, tail shaft housing, shifter, and input/output shafts. Internally, there were some interchangeable differences, like the type of shift forks and synchronizers used, but for the most part all T56s are built on the same stout center section. Gear ratios are as follows:
T56 transmission ratios- 1993 F-body with 2.73:1 axle:
Reverse - 3.28
First - 3.36
Second - 2.07
Third - 1.35
Fourth - 1.00
Fifth - 0.80
Sixth - 0.62
T56 transmission ratios- 1993 F-body, 3.23:1 axle:
Reverse - 3.28
First - 2.97
Second - 2.07
Third - 1.43
Fourth - 1.00
Fifth - 0.80
Sixth - 0.62
T56 transmission ratios- 1994-current GM production:
Reverse - 2.90
First - 2.66
Second - 1.78
Third - 1.30
Fourth - 1.00
Fifth - 0.74
Sixth - 0.50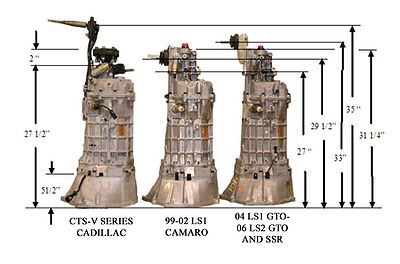 T56 transmission torque specs
Backup lamp switch 20 ft/lb
Clutch actuator cylinder bolt 71 in/lb
Clutch housing bolt 37 ft/lb
Control lever handle bolt 18 ft/lb
Gear select/skip shift solenoid 30 ft/lb
Reverse lockout assembly bolt 13 ft/lb
Reverse lockout solenoid 30 ft/lb
Shift control bolt 13 ft/lb
Shift control closeout Boot Bolt 18 in/lb
Shift control knob 27 ft/lb
Transmission bolt 37 ft/lb
Transmission drain/fill plug 20 ft/lb
Transmission mount bolt 38 ft/lb
Transmission mount nut 77 ft/lb
Transmission support bolt 66 ft/lb
Vehicle speed sensor bolt 89 ft/lb
NV5600
Designed by New Venture, this stout truck six speed is up to the task of living behind engines like the Duramax and 8100 Vortec. For obvious reasons it has little application in hot rods due to its huge size, excessive weight, and truck-like gear ratios.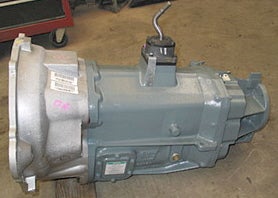 Automatic transmissions
Hydramatic
The history of the Hydramatic transmission began back in 1932, when it was introduced by Cadillac as the "shiftless transmission". For more historical information, see Hydramatic transmission at Wikipedia. The scope of this article is mainly centered around the transmissions of the '60s to present date. However, if there is interest in prior years it can certainly be included.
General Identification
Bell housing bolt patterns
Photo of the Buick, Oldsmobile, Cadillac, Pontiac bolt pattern bell housing. Notice the valley between bolt holes at the top of the bell housing.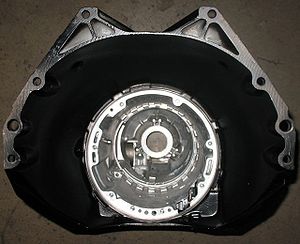 Photo of the common Chevrolet bolt pattern bell housing. The pattern has a peak between the bolt holes at the top of the bell housing.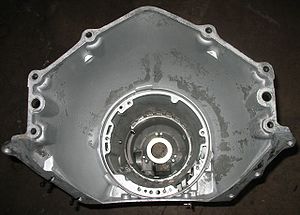 This photo shows a multi-pattern case. Both the BOP and Chevrolet pattern on the same bell housing.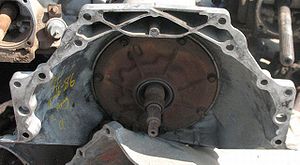 Transmission identification by pan shape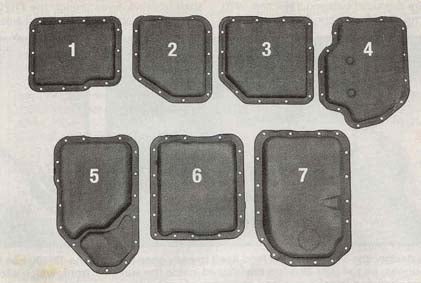 | Image Number | Transmission(s) | Pan Bolts |
| --- | --- | --- |
| 1 | Aluminum Powerglide | 14 |
| 2 | TH200 (Metric), TH200C (Metric) | 11 |
| 3 | TH250, TH250C, TH350, TH350C, TH375B | 13 |
| 4 | TH375C, TH400, TH475, 3L80, 3L80HD | 13 |
| 5 | TH200-4R | 16 |
| 6 | TH700-4R, 4L60, 4L60E | 16 |
| 7 | 4L80E | 17 |
Transmission dimensions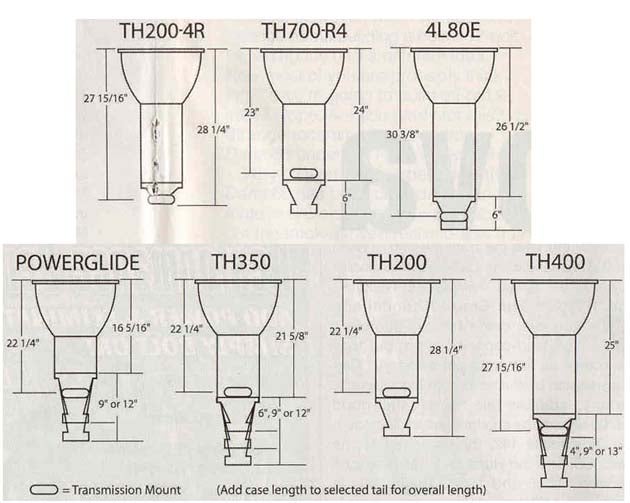 Typical application information

Two speed automatic
Powerglide
The Powerglide transmission was used in Chevrolet vehicles, even Corvettes. The 2 speed automatic used in Buick, Olds and Pontiac vehicles was known as the Super Turbine 300 or ST-300. The ST-300 transmission was similar to the Powerglide but few parts were directly interchangeable.
The ST-300 was also produced with a variable pitch torque converter. This converter could change stall RPM with an electric solenoid inside the transmission that was activated by a switch usually mounted on the throttle linkage.
Three speed automatic
THM-350, THM-350C, THM-375B
the T-350 trans was built in 5 different lengths. Two were 4x4 applications. Tail housing lengths of the two wheel drive were 6 inch , 9 inch and 12 inches. The 12 inch length is not very common. It was used mostly in station wagons of Buick - Oldsmobile brands
THM-400(3L80), THM-375C, THM-475(3L80HD)
1987-up 3L80HD is the HD version of the TH400 found in light trucks. It has 27 spline output shaft and is 34.5" long overall in 4x2 version. A common tag code on these is LJA. Found cast on the bell housing in medium size letters is 'HD'. The TH400 transmission was used between 1964-1990. 1987 was the year the transmissions were renamed using the alphanumeric designations.
Four speed automatic
TH-2004R
The 2004R transmission is the same length as a 6 inch tail housing T-350 transmission. The 2004R requires a TV cable hook up at the EFI or carb with the correct geometry for correct operation.
TH-700R4(4L60)
4L60E
4L60E is an electronic shifted and pressure controlled version of the 700R4 / 4L60 transmission.
4L80E
4L80E is a full electronic controlled and shifted transmission with similar design and strength to the T-400 trans. Early 4L80E and T-400 shared some parts that could be swapped. In 1996 the 4L80E has some design changes in lubrication circuits. You must be very careful when replacing gear train parts in late design 4L80E.
6L80E / 6L90E
General Motors 6 speed automatic. While some parts swap between the 6l80E and 6l90E, there are differences to watch out for. (Like?)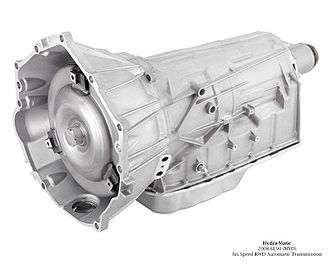 Five speed
Comparisons
Resources
Crankshaft Coalition Wiki articles: