Calculating tire dimensions
From Crankshaft Coalition Wiki
by: Alittle1, Cobalt327, Jon
(Click here to edit this page anonymously, or register a username to be credited for your work.)


This page may have copyright issues.
Please cleanup and edit as necessary to avoid copyright conflicts.
For details, see our copyright policy.
Formulas
Width x Aspect Ratio = Section Height
Section Height x 2 = Combined Section Height
Combined Section Height + Wheel Diameter = Tire Diameter
Tire dimensions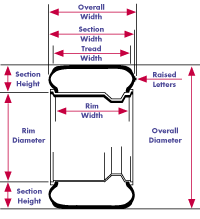 Using the formulas
Example: 185/60R14 85H or 185/60HR14
185mm x .60=111mm 111mm x 2=222mm 222mm + 355.6mm(14")= 577.6mm or 22.74"
The first number is the width of the tire in millimeters, measured from sidewall to sidewall. To convert to inches, divide by 25.4 In the example above, the width is 185 mm or 7.28".
The second number is the aspect ratio. This is a ratio of sidewall height to width. In the example above, the tire is 7.28" wide, multiply that by the aspect ratio to find the height of one sidewall. In this case, 185x0.60=111mm or 7.28"x0.60=4.36".
The last number is the diameter of the wheel in inches.
To figure the outside diameter of a tire, take the sidewall height and multiply by 2,(remember that the diameter is made up of 2 sidewalls, the one above the wheel, and the one below the wheel) and add the diameter of the wheel to get your answer.
While this should be the exact diameter, the actual diameter can vary from this due to tire pressure, manufacturing tolerances, etc. So the only way to know the exact diameter is to physically measuring it. This can be done by stretching a string around the tire then measure the length of the string, or by marking the tire and the surface it's sitting on at the contact point, then rotate the tire several times. Measure the distance and divide by the number of rotations. Making more than one rotation lessens the chance of an error.