Rebuilding an Oldsmobile engine
From Crankshaft Coalition Wiki
by: Cobalt327
(Click here to edit this page anonymously, or register a username to be credited for your work.)


You can edit this article right now.
Just click the "edit" tab at the top of this page, or click one of the [edit] links to the right of an article section.
For more info, see Help:Editing pages.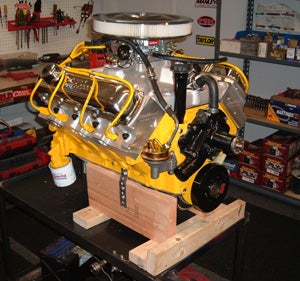 [edit]
Mondello article
This article was written by Joe Mondello, who was an expert on Oldsmobile engines all his professional life. The majority of the information in the article may also apply to other makes of engines....
[edit]
Some oddities seen during disassembly of an Olds 455
An experienced engine builder was shaking his head at a Olds Toronado 455 engine:
Half the rods were stamped on top, the others on the bottom.
The pistons were machined without a forward mark, you have to look at the underside of the piston and just know which side goes up.
[edit]
Some details of the Olds V8
Remember that the Olds V8 is different than a Chevy (or Ford, etc.) engine in some of the details. If you're not well versed on the Olds V8, research it well before proceeding with modifications or rebuilding.
Things to note:
Has a non adjustable valve train. Make sure your machinist knows Olds heads, or you will be buying adjustable rockers anyway.
The distributor turns CCW like a Pontiac and some others- opposite of a Chevy V8. Unless the distributor end play is really excessive, don't shim it- the thrust surface in the block is supposed to have the end of the distributor gear bearing on it. If shims are used, be sure there's still some up and down play in the distributor shaft with the distributor bolted down.
Use a good double roller timing set.
Be very careful about using Mondello's (or other's) oil restrictors, the info given on the "whys and wherefores" of using them is questionable at best. If you aren't racing it is very questionable if you need or even want them. Besides most pushrods now are oil restricted already.
Olds power is all in the heads! A,C,F,and J heads are all excellent choices, and can make impressive power when ported. Edelbrock Performer RPM aluminum heads are the best bet for a high performance 455 engine, having good flow right out of the box.
[edit]
Resources