Mopar rear axle spotter's guide
From Crankshaft Coalition Wiki
by: 48 Dodge, Cobalt327, Jon
(Click here to edit this page anonymously, or register a username to be credited for your work.)


You can edit this article right now.
Just click the "edit" tab at the top of this page, or click one of the [edit] links to the right of an article section.
For more info, see Help:Editing pages.
[edit]
Introduction
There have been several very good Mopar rear axles used through the years. This page will help ID the more commonly used/swapped rear axles from the 1950s to the present.
[edit]
ID by shape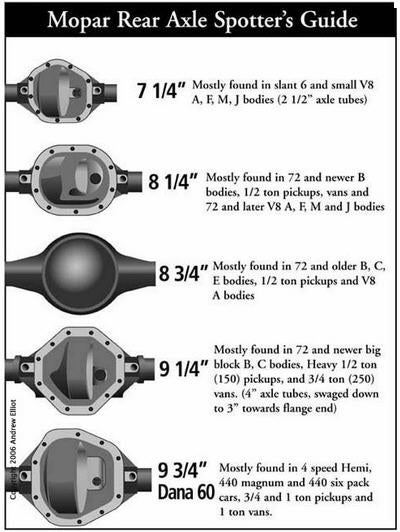 The easiest way to identify an axle is to look at the cover on the carrier housing:


7-1/4" has a 9 bolt rear cover.



8-1/4" has 10 bolts, evenly spaced. The cover is almost perfectly round.


8-3/4" has no rear cover. The back of the axle housing is round. The center section is removable from the front of the housing.



9-1/4" has a 12 bolt rear cover. Rear cover is roughly octagonal (stop sign-shaped).



9-3/4" has a 10 bolt rear cover. The cover is wider on the driver side.



[edit]
Casting numbers
These may not be all the casting numbers that were ever used on the various axles, but are a starting point:
7-1/4"

2070051
3507881
3723675
8-1/4"

2852905
3723598
3723599
8-3/4"

1820657 (small pinion shaft, up to 1964)
2070741 (small pinion shaft, 1965 to about 1972)
2070742 (large pinion shaft, 1957 to 1968)
2881489 (tapered pinion shaft, 1969 to about 1974)
9-1/4"

3507890
3507891
3723199
[edit]
Rear axle dimensions

[edit]
Fender tag and broadcast sheet codes
While the fender tag has far less info on it than a broadcast sheet, unlike a broadcast sheet the fender tag is a metal plate riveted to the fender. Some Mopar vehicles can have an axle code on the fender tag- but not all do. If the vehicle hasn't been changed through the years, the fender tag or broadcast sheet info will be the equipment that's on the vehicle. This can be useful if doing a restoration, researching a vehicle, or if looking in a salvage yard.
In the event a broadcast sheet is available, it has a bounty of info and should always be saved, obviously. A broadcast sheet often doesn't survive unless it's well hidden. Even then, age and conditions can render it unreadable.
More on this can be seen at the wiki page Build sheet decoding (still being compiled).
The broadcast sheet may or may not have ever been included with any particular vehicle. Codes on the fender tag or broadcast sheet that pertain to the rear axle size and/or ratio have a suffix letter of "A" or "D" for '60s-'70s Mopars, possible other years as well.
[edit]
References