Ford 144-250 inline 6 high performance building
From Crankshaft Coalition Wiki
by: Jon
(Click here to edit this page anonymously, or register a username to be credited for your work.)


[edit]
Preface
You need to first determine what the final results are desired for the inline 6 engine build.
Daily driver
Mild performance
Hot street use
Race only
[edit]
Aftermarket support
These small Ford inline 6 cylinder engines have a small, limited selection of aftermarket parts, but there are parts from other Ford engines that fit them, and work better than the stock parts.
For example, if you want a flat top piston there is none available for a 200, but a 2.3L HSC ("High Swirl Combustion") Ford Tempo piston is a high swirl flat top piston with the same 3.680" bore size as the 200. The only difference is the 2.3L HSC pistons have a 0.090" pin offset, and the 200 pistons have a 0.060" offset. However, they still work fine, and are available oversize up to 0.080" from Speed Pro.
When working on the cylinder heads on the older engines (1960-'68) the 1960-'68 heads do not flow well. Replacement 1969-up heads are better, particularly casting numbers D8 and E0 heads, which would come in 1979-'83 model years. These heads have 1.75" intake/1.36" exhaust valve sizes. The exhaust valve seat can be machined to 1.5". The drawback to these heads is the chamber size is 62cc, 1960-'68 heads are 52cc, so compression drops approximately 1 point. There are also Australian cylinder heads with removable intake manifolds, but they are expensive. There is an aftermarket aluminum head developed from the Australian head available from classicinlines.com
Originally, Ford used a steel shim head gasket that was 0.025" compressed, these are no longer available. What is available today are composite head gaskets that range from 0.045"-0.055" compressed, so the cylinder head must be machined at least 0.025" to make up the difference. If you use the larger 62cc chamber, it would need to be machined out a bit more depending on the desired compression ratio. These heads can be milled 0.090" maximum.
Aftermarket cam grinds are available from Clay Smith, Comp, Isky and Schneider. Be aware that some of the cams offered exceed the lift capability of stock valve springs, which is about 0.450". There are a couple aftermarket spring options from Clay Smith, but they require machining for PC valve seals. Ford 302 intake springs will clear to just over 0.500" lift, but there is no retainer with a 5/16" valve stem size to fit the 302 intake springs.
To cure this, you can start with 12 stock 302 2-piece intake retainers, then take the 11/32" center section out and set them aside. Then take 12 stock 5/16" center sections from the 144-250ci retainers, and use them in the 302 retainers. Now you have a 5/16" retainer to fit the 302 intake springs.
[edit]
Induction
For induction, the factory single barrel carbs flow between 150-200 CFM, so a 2bbl really wakes them up. Holley/Webber 5200 2bbl's work good and there about $85 from www.stoveboltengineco.com which also has carb adapters for them, or have a machine shop mill down the carb base plate on the intake manifold to allow the carb to be mounted directly to the intake manifold with a fabricated adapter plate. Holley 2300 2bbl carbs also work good, adapter plates are also available, but direct mounting to the intake is the better option. 500 CFM for a boosted/ turbo application and 350 CFM for a N/A application.
[edit]
Turbocharging
Turbochargers have become popular for these engines, a smaller T4 will do nicely. A J pipe up to the turbo from a factory manifold will work, and is simple to install.
Some of the basics for turbocharging are:
Fuel pressure must rise on a 1:1 ratio with boost pressure with a blow through type carb.
Carbs have to be modified by installing a nitrophyl float and removing the choke, in most applications although drilling out the air bleeds may be required.
[edit]
Ignition
For Ignition, the easiest upgrade is the Ford Duraspark II ignitions (Duraspark I ignitions are available but not as good). This can be run with a factory Duraspark II ignition box, an MSD box (MSD makes a Duraspark-to-MSD connector for a clean installation), or even a GM 4-pin HEI module. The GM module needs to use some form of heat sink along with thermal heat transfer compound. When getting a Duraspark II distributor, get the single port vacuum advance model. A factory application for the Duraspark II single vac distributor would be a 1978-'80 Ford Fairmont w/a 200ci inline 6. There is more but it's all the same part number anyway. A drawback to the Duraspark II is it will not fit the 144 or 170ci inline 6 engines, in these applications an ignition system is available from www.classicinlines.com or www.performancedistributors.com. Systems are also available for the 200-250ci inline engines from the same place.
[edit]
Water pump
You may decide to only race your Ford inline 6 powered vehicle. The usual modifications for any race car will function the same on the inline 6. There may not be a direct bolt on kit, modifications may be needed.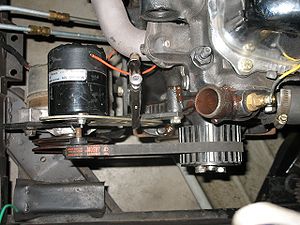 [edit]
Resources