Cadillac engine knowledge
From Crankshaft Coalition Wiki
by: Jon
(Click here to edit this page anonymously, or register a username to be credited for your work.)


You can edit this article right now.
Just click the "edit" tab at the top of this page, or click one of the [edit] links to the right of an article section.
For more info, see Help:Editing pages.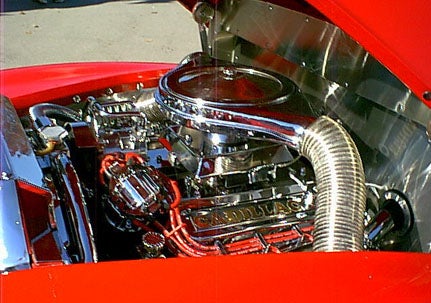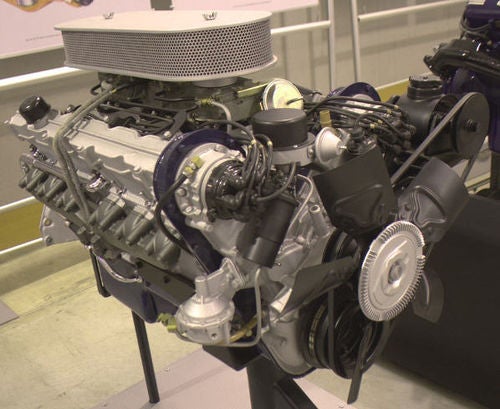 [edit]
1946-'60
[edit]
1960-'69 general engine specifications
Year
Engine
HP|CID
Carb
Bore x Stroke
(Inches)
Comp.
Ratio
Brake
H.P.
@ RPM
Torque
Lbs.-Ft.
@ RPM
Oil
PSI
Spark
Plug
Type
Spark
Plug
Gap
Dwell
Angle
Firing
Order
Timing
BTDC
1960
325 Horsepower
V8-390
4 Barrel
4 x 3.875
10.5
325 @ 4800
430 @ 3100
30-35
AC 44
.035"
30°
18436572
5°
345 H.P. Eldorado
V8-390
3x2 Bar
4 x 3.875
10.5
345 @ 4800
435 @ 3400
30-35
AC 44
.035"
30°
18436572
5°
1961
325 Horsepower
V8-390
4 Barrel
4 x 3.875
10.5
325 @ 4800
430 @ 3100
30-35
AC 44
.035"
30°
18436572
5°
1962
325 Horsepower
V8-390
4 Barrel
4 x 3.875
10.5
325 @ 4800
430 @ 3100
30-35
AC 44
.035"
30°
18436572
5°
1963
325 Horsepower
V8-390
4 Barrel
4 x 3.875
10.5
325 @ 4800
430 @ 3100
30-35
AC 44
.035"
30°
18726543
5°
1964
340 Horsepower
V8-429
4 Barrel
4.13 x 4.0
10.5
340 @ 4600
480 @ 3000
30-35
AC 44
.035"
30°
18726543
5°
1965
340 Horsepower
V8-429
4 Barrel
4.13 x 4.0
10.5
340 @ 4600
480 @ 3000
30-35
AC 44
.035"
30°
18726543
5°
1966
340 Horsepower
V8-429
4 Barrel
4.13 x 4.0
10.5
340 @ 4600
480 @ 3000
30-35
AC 44
.035"
30°
18726543
5°
1967
340 Horsepower
V8-429
4 Barrel
4.13 x 4.0
10.5
340 @ 4600
480 @ 3000
30-35
AC 44
.035"
30°
18726543
5°
1968
375 Horsepower
V8-472
4 Barrel
4.30 x 4.06
10.5
375 @ 4400
525 @ 3000
30-35
AC 44N
.035"
30°
15634278
5°
1969
375 Horsepower
V8-472
4 Barrel
4.30 x 4.06
10.5
375 @ 4400
525 @ 3000
30-35
AC R44N
.035"
30°
15634278
5°
[edit]
1968-'76 general engine specifications
Year
CID
Fuel
Horsepower
@ RPM
Torque
@ RPM
Bore x Stroke
(inches)
Compression
Ratio
1968-'69
472
4bbl
375@4400
525@3000
4.300x4.060
10.5-1
1970
472
4bbl
375@4400
525@3000
4.300x4.060
10.0-1
1970
500
4bbl
400@4400
550@3000
4.300x4.304
10.0-1
1971
472
4bbl
375@4400
525@3000
4.300x4.060
8.8:1
1971
500
4bbl
365@4400
535@2800
4.300x4.304
8.5:1
1972-'73
472
4bbl
220@4000
365@2400
4.300x4.060
8.5:1
1972-'73
500
4bbl
235@3800
385@2400
4.300x4.304
8.5:1
1974
472
4bbl
220@4000
365@2400
4.300x4.060
8.25:1
1974-'75
500
4bbl
210@3600
380@2000
4.300x4.304
8.25:1
1975
500
EFI
210@3600
380@2000
4.300x4.304
8.25:1
1976
500
4bbl
190@3600
360@2000
4.300x4.304
8.5:1
1976
500
EFI
215@3600
400@2000
4.300x4.304
8.5:1
[edit]
1968-'76 tune-up specifications
Year
CID
Fuel
Plug (gap in.)
Ignition
Timing
°BTDC
Intake open
°BTDC
Idle RPM
1968-'69
472
4bbl
44N (.035)
points .016"
5B
18
550
1970-'71
472
4bbl
R46N (.035)
points .016"
8B
18
600
1970-'71
500
4bbl
R46N (.035)
points .016"
7.5B
18
600
1972-'73
472
4bbl
R46N (.035)
points .016"
8B
34
600
1972-'73
500
4bbl
R46N (.035)
points .016"
8B
34
600
1974
472
4bbl
R45NS (.035)
points .016"
10B
21
600
1974
500
4bbl
R45NS (.035)
points .016"
10B
21
600
1974
500
4bbl
R45NS (.035)
HEI
10B
21
600
1975-'76
500
4bbl
R45NSX (.060)
HEI
6B
21
600
1975-'76
500
EFI
R45NSX (.060)
HEI
12B
21
600
[edit]
Firing orders
[edit]
Fastener torque specifications
In ft/lbs
| Year | Disp. | Head | Rod | Main | Crank damper | Flywheel | Intake | Exhaust |
| --- | --- | --- | --- | --- | --- | --- | --- | --- |
| 1968-'76 | 472-500 | 115 | 40 | 90 | press fit | 60 | 30 | 35 |
[edit]
Identification
[edit]
Block casting numbers
1968-'69 472: 1486238
1970-'76 472 & 500: 1485200 (1486200 was used on some 1974-'76 500 engines)
1977-'79 425: 1609110
1980-'85 368: 1615255 Carb; 1620734 EFI
[edit]
Crank casting number
1968-'74 472: 1486424
1970 500: 1495094
1971-'76 500: 1496793
1977-'79 425: 1609142R
1980-'85 368: 1609142
[edit]
Stroke
Stroke can be measured through spark plug hole if the engine will turn over.
1968-'74 472, 1977-'79 425, 1980-'85 368: 4.060" (less than 4-1/8")
1970-'76 500: 4.300" (more than 4-1/4")
[edit]
Head casting number
Usually in the center of the head under the valve cover.
1968-'69 472: 1486250
1970 472 & 500: 1495950, 1497902, 1486250
1971-'73 472 & 500: 1497902
1974-'76 472 & 500: 6024493, 6024552
472 and 500 heads have the last 3 digits of the casting number in a recess under a center intake port, visible from the lifter valley with a mirror.
1977-'79 425: 1609112, 1609423 (last 3 usually on driver's front / pass. rear exhaust port)
1980-'85 368: 1615188, others unknown. The 4-6-8 head is substantially different than the regular head, and the rocker assemblies are not directly interchangeable.
A fairly comprehensive 2 page PDF ID guide with pictures (mostly on the 472/500 engines) can be found HERE. For a quick ID, on the second page there is a box shape shown on the rear of the 1977-later blocks to ID the smaller engines. Distinguishing a 1970-newer 472 from a 500 can only be done by crank number, stroke, or piston design, as all other parts are the same.
[edit]
Modifications and swapping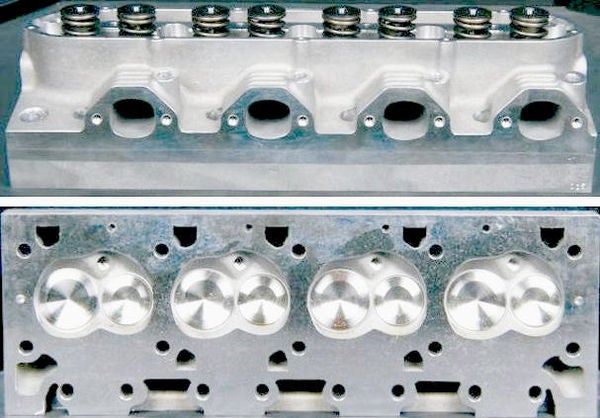 The biggest gains in power output come from aftermarket cylinder heads (see photo). Stock heads can also be ported for more power. MTS and others do this type of work. Pre-1974 heads are small chamber 76cc and are good for around 12-13 to 1 compression when a flat top piston is fitted. Race gas, alcohol or propane fuel must be used.
The 1974 and later open chamber heads have 120cc chambers giving compression ratios of 7.5-9 to 1 depending on the piston used.
Big gains can be made by adding larger valves. The valve sizes can be boosted to 2.19"/1.84" without worry of hitting the water jackets. The usual porting, valve unshrouding and minor bowl modifications will work, although the short-side radius should be left alone to avoid drastic differences in airflow. Roughly 20 hp can be gained by this work alone and most of that comes from the larger valves.
The 1977-'79 425 heads have 108cc chambers giving about 10:1 compression ratio depending on the piston used. The 425 heads have restricted air flow due to their port design making them the least desirable for modification. The head gasket is different as well.
[edit]
Intake
The stock intakes used on the 472/500/425 engines leave a lot to be desired. They are a very low rise design, some are single plane, but not in a high performance sense.
MTS, Edelbrock and others make aluminum aftermarket intakes that are better suited for high performance duty.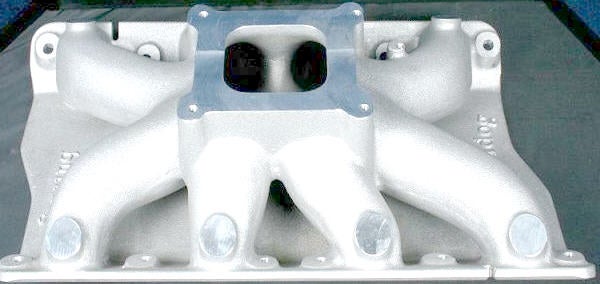 Blocks should get the standard deburring. A drain hole can be drilled into the rear of the lifter valley for better oil drain back and a spillway can be added to the oval hole at the front of the block to better lubricate the timing chain and the camshaft thrust face. Incidentally, later blocks have 1/2 inch oil galleries for increased flow through the block, so it makes a good performance base.
A 472 can be made into a 500 by swapping in the 500 crank and pistons, although on 1968-'69 engines, a slight amount of notching is necessary at the bottom of the cylinder bores.
If the front cover has rust pitting from the water pump, it can be saved by sandblasting and filling the pits with JB Weld and then painting.
[edit]
High performance tolerances
Crank end-play, minimum- 0.008"
Rod side clearance- 0.035"
Top ring gap- 0.020"
Second ring gap- 0.018"
[edit]
Cam timing/degreeing
The stock cam can benefit from advancing the cam timing 2 degrees, as these engines had retarded cam timing in stock form for emissions. Attach the degree wheel to the crank with a 9/16-24 fine thread bolt.
[edit]
Transmission bolt patterns
The ~1968-up 368, 425, 472, and 500 cid engines all use a "BOP" (Buick/Olds/Pontiac) bellhousing bolt pattern, so a TH350 or TH400 or "uni-bell" automatic will bolt right up to the back of the block as long as the proper Cadillac flexplate and torque converter are used.
The '56-'64 365/390/429 use a Cadillac-only "flat top" bolt pattern, which does not share dimensions with other GM bolt patterns. In 1965 most Cadillacs (there was a unique '64 carryover for '65 commercial cars) received a new "pad-mount" starter motor, which with two vertical bolts held the starter to a cast block pad. Previous design was a "flange mount" starter which bolted to the bell housing. In the case of the unique '64 with a factory installed engine-to-transmission adapter, the starter bolted to an adapter plate which was "sandwiched" between the block and an early Buick bolt-pattern TH-400. TH400 crankshafts use a flange and pilot which are not dimensionally the same as those of "Jetaway" crankshafts. .
[edit]
TH350 and TH400
A TH350 can be built to stand up to the torque of a Caddy engine, but the cost may seem high compared to what a TH400 can be built for, to do the same job. It is an option, however. Some TH350 transmissions came with steel transmission cases in older military tanks and trucks; they would be best for mondo horsepower applications such as 1500+ hp cad engines.
But the TH400 remains the "go to" transmission for many Cad engine applications; it's affordable, tough, and came as standard equipment behind many Cad engines from the mid-'60s onward.
[edit]
Front wheel drive
The TH425 front-drive automatic transaxle also fits these engines as used in the Eldorado, although a special dual-sump oil pan and pickup are used with these transmissions due to the required half shaft clearance. Any RWD engine can be converted to FWD and vice versa if the proper oil pan and pickup are used, although two of the main cap bolts must be removed and swapped for studs with standoffs to mount the pickup bracket.
[edit]
4-wheel drive
Another good thing about these engines using a TH400 transmission is that a BOPC patterned case can be assembled with the Chevy 4x4 tail shaft and associated hardware for use in an off-road truck. The engine weight is approximately 600 pounds fully dressed and splits the difference between small and big block Chevy, so suspension modifications are not usually necessary. Transfer case choice for a 4x4 should be an NP205, which was optional for and used in many 1973 to 1987 Chevy & GMC 1/2-ton, 3/4-ton and 1-ton trucks as well as 1/2-ton and 3/4-ton Suburbans from 1973 to 1987 plus some crew cab trucks from 1987 to 1991. The NP205 is a durable cast iron housing gear-driven part time transfer case and holds up nicely to the big Caddy's torque output.
[edit]
700R4 / 4L60 / 4L80E
The 700R4/4L60/4L80E can be good transmissions to use behind the Cadillac 472 and 500, due to the fact that you can run 4.11 gears and not over rev the engine with the overdriven 4th gear.
The 4L80E is a good transmission to use on the Cadillac 472 and 500, due to the strength of the 4L80E. The 4L80E normally requires a stand alone controller for automatic shifting and pressure controls. With a price tag of a CPU controller at $600.00 and higher, it's not a inexpensive swap.
The following are for comparison's sake and aren't recommendations, per se. As with any large expenditure, research before spending!
For those who want the strength of a 4L80E without the need for an electrical controller, there is the Quadzilla for around $3400.00.
The Compushift ECM (Electronic Control Module) for the GM 4L60E/4L80E costs about $1150.00. A less expensive controller is the Optishift; cost for it is around $600.00. For about half that amount, the MegaShift™ Transmission Controller is available. It requires assembly and some knowledge of electrical circuitry, etc.
[edit]
Cad engine to Chevy transmission
If a Chevy bolt pattern transmission is used, there are several adapters that will mate Cad engines that have a BOP bolt pattern to the Chevy transmission:
[edit]
Early Cad engine to late model GM transmission
1949-'63 Cad engines from Bendtsen's Transmission Center
Adapter kit allows you to put a Chevy automatic transmission (Powerglide, TH350, TH400, 700R4) behind a 1955-'64 Cadillac 331, 364, 390 & 429 engine, from Speedway.
Wilcap early Cad adapters for GM manual and automatic transmissions.
[edit]
Early Cad to Ford transmission
Adapter for 1932-'48 Ford transmission behind either a 1949-'64 Olds or 1949-'53 Cadillac V8.
[edit]
Engine mounting
When bolting these engines into most any application, use the stock-type Cadillac Eldorado engine mounts, oil pan and associated pickup tube. Fabricate a set of 3/8 inch thick plates to be bolted between the crossmember. The big Cad has the mount bolts 3-1/2 inches ahead of where the Chevy mounts are when measuring from the stock Chevy engine to transmission bellhousing mating surface.
For a 4x4 truck, the engine usually fits well by using crossmember and frame rail notches to clear the oil pump. If the truck originally used a TH350 transmission, the crossmember needs to go back about 3 inches and custom drive shafts will needed. These should use the larger 1 ton U-joints for added durability.
[edit]
Oil pumps
There are different oil pumps for the big Cadillac engines. One faces forward from the block at a 45 degree angle downward. The next faces downward 45 degrees and points right toward the bottom of the crankshaft pulley. There is another, that has been described as pointing more outward than the first one described. These can all be interchanged, but make very sure to properly clean the oil pump and block mating surfaces and always use a new oil pump gasket. The correct gaskets are available from major gasket manufacturers, and should be about 0.005" thick. An oil pump gasket that is too thick will cause more oil to bypass the pump gears and allow more end play of those gears too, something you do not want.
The stock Cad oil pump spring can be shimmed using a Q-jet metering jet to boost oil pressure to about 50-60 psi. 10-12 psi per 1000 rpm is good. Make sure to prime the oiling system using an electric drill to spin the pump after you do this to check for proper operation of the pump and pressure bypass and to check the oil pressure psi.
[edit]
Oil Pans
RWD pans used a front-sump pan and pickup. The Eldorado used a rear-sump setup. Later 425 and 368 engines used a mid-sump style. The latter two pans are what you would typically use for most engine swaps.
If possible, use the front sump oil pan design to eliminate the longer pickup; this will help keep the engine primed instead of using a thicker motor oil.
[edit]
Clearance issues
In cars the clearance problems are usually at the front crossmember, the driver side exhaust manifold, and possibly the HVAC airbox on the firewall. This can be modified with fiberglass or sheetmetal if necessary. Streetrods usually have sufficient room to drop the big Cad engine in. The fit is tight like with a big block Chevy, but the only change usually required will be in motor mount placement. Most all vehicles requiring a rear-sump oil pan and pickup can use the Eldorado pan and pickup tube, or a mid-sump pan and pickup as found on the smaller 368-425 Cadillac engines of 1977-'79 vintage. Stock exhaust manifolds may be used, or aftermarket block-hugger style headers can be sourced from Sanderson. In most cases where a big block Chevy header can be used, the Chevy flanges can be removed and Cad flanges can be made up quite easily. The primary tubes may need a bit of tweaking to line up with the ports with this method. Remember that the front and rear drive exhaust manifolds are different for the driver side. This may help in routing the exhaust if it is a tight fit on that side.
The Cad engines do not fit easily in some GM chassis. Never fit the engine in without putting the exhaust manifold on first. Better yet, use a custom set of block hugger headers, as Cad parts are usually insanely expensive (but worth it in this case).
[edit]
Intake manifold
Stock carbureted intake manifolds can benefit from a 1 inch spacer under the carburetor, adding around 15 hp. Because of the bathtub-type steel intake gasket, plate stock and exhaust tubing can be fabricated into a tunnel ram style dual carb manifold. You can build one of these to use a pair of Quadrajets from 4.1L Buick V6 or 4.3L Chevy V6 engines, as two of these with straight linkage could feed the big motor quite well. The bathtub gasket can be reused by using a bit of Permatex to seal the block and head surfaces by encircling the ports to prevent an internal vacuum leak on both sides of the gasket.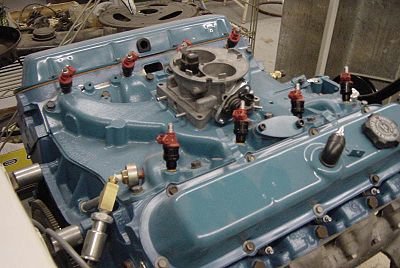 The factory EFI system used from 1975-'76 on 500 cubic inch engines is a port injection system which operates similar to the familiar Chevy TPI. It is a throttle body centered on an intake manifold with separate fuel injectors, and resembles the EFI set-up used on NASCAR Sprint Cup cars ca. 2012. Each cylinder has its own injector mounted in the intake runner near the intake gasket area with a common fuel rail feeding all eight injectors. This system was also used through 1979 on the Seville as standard equipment and as an option on full size cars.
It consists of four main systems; the ECU, the fuel delivery system, the air distribution system, and the sensors which supply information to the ECU. The ECU is a pre-programmed computer that analyzes the sensor information and computes the exact fuel requirements based on that information. It supplies the proper amount of fuel by opening the injectors for a specific amount of time, which varies as the engine operating conditions change.
The fuel delivery system consists of two fuel pumps (one in the tank, one mounted to the chassis), the fuel filter, the fuel pressure regulator, the fuel rails and lines, and the injectors. The fuel system runs with a pressure reading of 39 to 55-95 PSI. A relief valve protects the system from excessive fuel pressure. The fuel regulator maintains the pressure in the fuel rails at 39 psi for proper injector operation. The injectors are divided into two main groups, one for cylinders 1, 2, 7, and 8 and the other group for injectors cylinders 3, 4, 5, and 6. All four injectors in each group open simultaneously, with the two groups alternating in operation.
The air distribution system consists of the throttle body assembly, the air filter assembly, and the intake manifold. The throttle body houses the fast idle valve and the idle bypass air passage. The fast idle valve allows extra air to bypass the throttle blades when the engine is cold and closes as it warms up. The warm idle is adjusted at the idle bypass air passage.
The sensors are as follows:
MAP (Manifold Absolute Pressure)
TPS (Throttle Position Sensor)
MAT (Manifold Air Temperature)
CTS (Coolant Temperature Sensor)
Engine Speed Sensor (measured at distributor)
The MAP sensor is housed in the ECU and a plastic vacuum line connects it to the throttle body. The TPS sensor is mounted on the throttle body and is controlled by throttle blade movement. The MAT and CTS sensors are completely interchangeable. The MAT is located on the intake manifold and the CTS is located on the passenger cylinder head water outlet. The engine speed sensor is on the distributor shaft under the cap assembly and sends engine speed and fuel triggering information to the ECU. This system runs in open loop configuration without an oxygen sensor and is quite easy to transplant into any vehicle, as long as all the components are used. The ECU has a separate computer/engine wiring harness that is easily swapped from donor vehicle to the new vehicle with only four wires and one vacuum line needing to be hooked up to work properly. All of the servicing information can be found in Chilton's #8587 manual, which deals exclusively with Cadillacs from 1967 to 1989.
The stock EFI is not very good for performance applications, it does not keep up with aftermarket cams. You need to change the fuel injectors for high flow ones, and use a fuel pump with a return line. The stock EFI will only handle approximately 300 hp max, they're hard to find replacement parts for. There were more Cadillacs made with the 800 cfm Q-jet than with EFI. And what's worse is the EFI equipped engines didn't make much more hp then the carbed versions.
[edit]
Distributor and wires
Point-type distributors are similar to the familiar Chevy and use the same internal parts, however the internal shaft and the housing are Cadillac-specific. Ignition parts for the HEI-style distributors are also the same as the Chevy engine uses, with a few exceptions. First, like the points distributor, the shaft and housing are Cadillac only. Also, the distributor will differ between carbureted and fuel injected engines. The fuel injected distributor has a position sensor under the main body that tells the computer the engine speed and when to trigger the proper injectors. If you're not sure what distributor you have, the carbureted version looks similar to the Chevy distributor. The fuel injected distributor has a square portion with a round 3-pin plug directly above the clamp area. The hold-down clamp used will depend on the distributor. They don't interchange, so get the clamp when you get the distributor.
Many people have complained about the Cadillac HEI distributor having too much advance. One option is to go to a modified Chevy distributor cut down to fit the Cadillac engines. Many cars, especially the GM F-body, will not allow the hood to close with the HEI distributor in place. You can cut the stock HEI unit down about 2 inches and have it clear everything if you know how to measure and cut correctly. Always reshape the end of the distributor shaft to fit into the oil pump shaft. If cutting and welding the distributor shaft, be careful to not warp it.
Best choice for ignition wires would be a cut-to-fit set, as even the stock ignition wire sets may not fit quite the way they should due to the front-mounted distributor location.
[edit]
Exhaust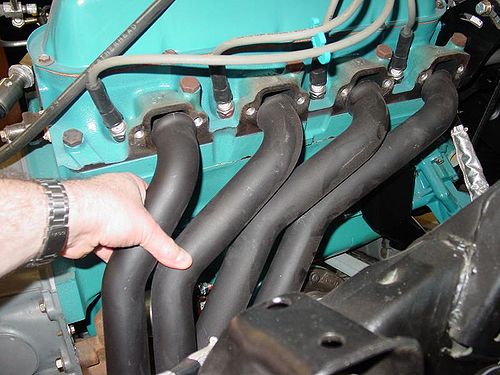 [edit]
Cadillac engine parts sources
[edit]
Forums
[edit]
Resources