Rearend identification
From Crankshaft Coalition Wiki
by: Alittle1, Cobalt327, Crashfarmer, Crosley, Jon
(Click here to edit this page anonymously, or register a username to be credited for your work.)


You can edit this article right now.
Just click the "edit" tab at the top of this page, or click one of the [edit] links to the right of an article section.
For more info, see Help:Editing pages.
Introduction
There are several ways to tell what the type/size/application of a rearend. Besides visually checking and comparing rearends to one another, there are casting numbers, build codes and dates displayed or cast/stamped in various locations on the rearend and elsewhere. These all can be used to help ID a rearend.
Casting numbers
Many if not all rear end housings will have some sort of casting number or ID cues to identify it. If the RPO decal is present (newer vehicles) or the broadcast or "build" sheet is available, it can show what was originally in the vehicle. Sometimes body/fender/cowl tags contain coded info that may list specifics on the rearend.
GM Hotchkiss (removable carrier) type
The Hotchkiss type removable carrier rear end was used by GM for a number of years in passenger cars before GM started using the Salisbury type integral carrier rear end. The Pontiac/Olds versions from the later '50s were a drag racing mainstay for many years- even in front engined Top Fuel dragsters and Altereds.
1955-'64 carrier casting numbers
3 series (2.73:1- up): 410408N
2 series (2.56:1- down):410409N The Chevy version used various tags to designate the ratio.

Ford
Ford used a vast array of rear ends over the years. Some carried ratio and/or posi tags as well as the vehicle having a plate containing coded info on the rearend. Below are photos of some of the more common rear ends for visual reference and comparison:
Removable carrier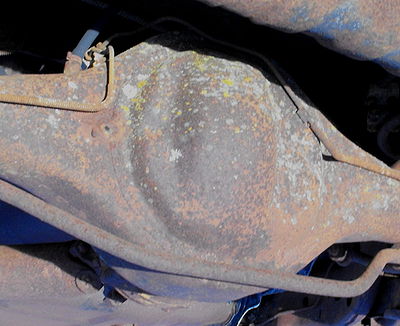 8-inch
ID
An easy way to tell the difference between the 8-inch and the 9-inch Ford differential is that on an 8-inch, a socket will fit on the lower nuts seen in this picture. Since the pinion centerline is lower on a 9-inch, a wrench is needed to gain clearance.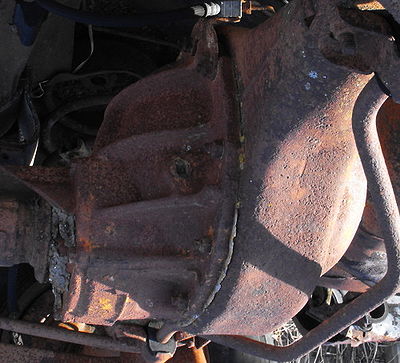 9-inch
One of the strongest Ford rear end was the 9". Still one of the best rearends to modify or use in stock form to handle big horsepower.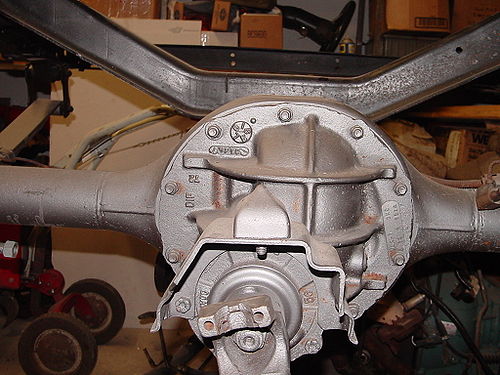 9 3/8-inch
Removable carrier. Found in some Lincoln, Mercury and Thunderbird.
Non-removable carrier
8.8-inch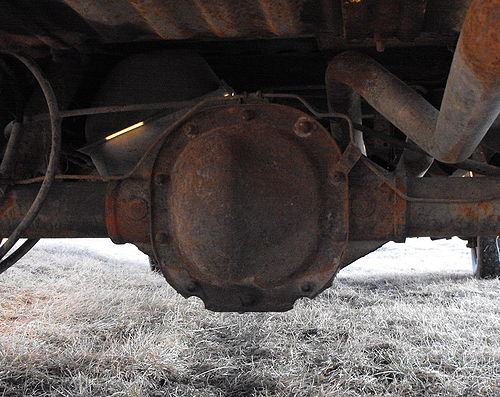 8.7-inch
Non-removable carrier. Found in Granada, Monarch 1977 to 1978.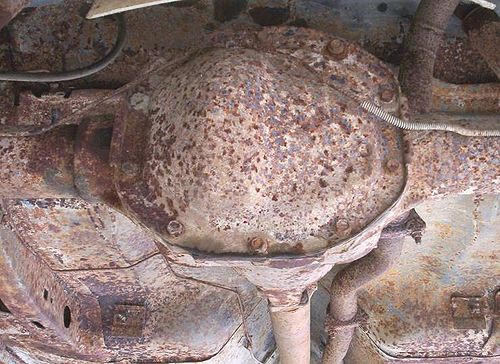 7.75-inch
Non-removable carrier. Found in Fairlane.
7.5-inch
Non-removable carrier. Found in light duty applications such as six cylinder Falcon, Fairlane and 170 cid Maverick (Mavericks powered by 200 cid, 250 cid and 302 cid engines had the 8-inch differential).
7.25-inch
Non-removable carrier. Found in Falcon, Econoline, Fairlane, Comet.
7-inch
Non-removable carrier. Found in Falcon.
6.75-inch
Non-removable carrier. Found in some Pinto and Mustang II.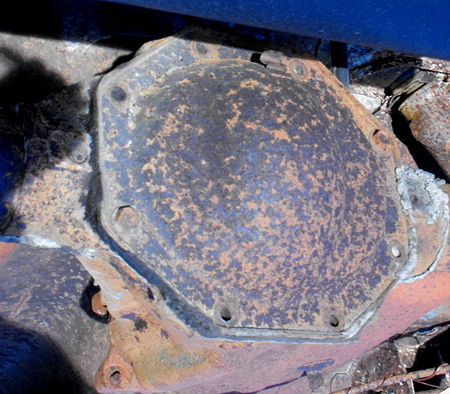 Columbia 2-speed rear end
More of an overdrive unit than an actual rear end. Included in the Ford section since it was offered as an option on '30's to '40's Fords.
General Motors
12 bolt
10 bolt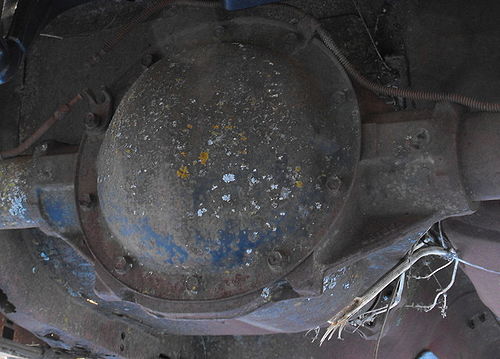 10 bolt ID
If you don't have the codes on hand to identify if a 10 bolt rear end is an 8.5" or not, you can measure the distance between the very bottom bolt for the cover and the next adjacent bolt (either right of left), it will be 3-3/4" for a 8.5" and 3-1/4" for a 7.5".
There are two distinctive lugs cast into the bottom of the 10 bolt rear end housing. These lugs are arrowed in the image above.
The ring gear of the corporate 10 bolt is secured by 7/16" LH bolts- 10 of them. The ring gear is (as mentioned) 8.5" diameter and the pinion shaft diameter is the same as the 12 bolt at 1.625".
10 bolt carriers
The corporate 10 bolt 8.5 inch rear end uses a 2-series carrier for 2.41 and 2.56 ratios and a 3-series carrier for 2.73 and lower (higher numerically) ratios.
Mopar
Dana
Others
Resources