Q-jet with dual capacity accelerator pump
From Crankshaft Coalition Wiki
by: Cobalt327
(Click here to edit this page anonymously, or register a username to be credited for your work.)


I recently wanted to get a definitive answer on what- if anything- is required to use a late model NON CCC/NON electronic Q-jet carb that has the dual capacity accelerator pump. Because these carbs are often mistaken for being full electronic/CCC-type carbs, many who have them either don't know what they have, or if they do they don't know whether they can be used as-is or not.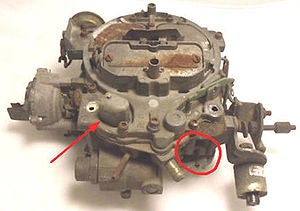 These carbs can be ID'd by their solenoid plug mounted on the passenger side top front of the airhorn/carb top, along w/the LACK of a plug for the TPS that's present on electronic feedback-type Q-jets used during the same years on vehicles using the "CCC" system. The carb number will be a 1708- then 5 or 6- followed by the rest of the carb number.
These NON CCC/NON electronic dual capacity accelerator pump Q-jet carbs are found on 1985-'86 GM trucks and vans, and have desirable features- adjustable top-accessed APT, electric choke, correct linkage geometry for OD transmission TV cable, large 800 cfm casting, and generally less use/abuse/rebuilds on them than carbs from the '60's and '70's.
It turns out that basically nothing needs to be done to have the carb perform just like the earlier single capacity accelerator pump carbs. The plug and solenoid can be left intact, the default setting (with no external wiring or electrical source supplied to the plug) is such that the accelerator pump will deliver a normal pump shot. Or if desired the cavity under the solenoid can be filled with molten lead to prevent any chance of a leak.