Troubleshooting 4L60E transmissions
From Crankshaft Coalition Wiki
by: Cobalt327, Crosley, GypsyR, Jon
(Click here to edit this page anonymously, or register a username to be credited for your work.)


[edit]
Basic details on troubleshooting the 4L60E transmission
It takes some working knowledge of the electronically controlled transmission to determine if the problem is engine, transmission or chassis related. Some general questions to be answered are:
Does the speedometer function correctly?
Does the in dash shifter indicator function correctly?
Is the check engine light on?
Has the system been scanned for codes and code history?
[edit]
Drivability problems
Has the transmission lost reverse? Has it also lost 2nd gear and 4th gear (overdrive)?
If those are the problems, suspect that the drive shell has broken or has stripped out splines. When the drive shell fails, the results is no reverse, 2nd gear or 4th gear. Check for there being three complete shifts of the forward gears. Shift 1st to 2nd gear, then shift 2nd to 3rd gear, then shift 3rd to 4th gear (overdrive).
If the transmission starts out in first then takes an extra long time to shift into third and no further then something is wrong with the band or servo. (It skips over second and never goes into fourth) This usually happens right after a rebuild where the band popped off the retainer pin unnoticed during assembly or the servo pin "missed" the band. Also possible is an issue with the teflon seal rings on the servo piston slipping part way off during assembly. If the transmission shifts into second OR fourth you can pretty well assume the band is OK.
[edit]
Default operation
3rd gear is all the transmission will have if there is no power to it. If the transmission has 1st gear, it has power to it and is allowed to have 1st gear by the ECM.
[edit]
Scanner
A good quality scanner that can read codes, clear codes, and can read a live data stream as the transmission is controlled by the PCM is needed, not just a code reader device.
Some scanners can take over control of the transmission for a better diagnostic test of the operation as the vehicle is driven.
[edit]
Valve body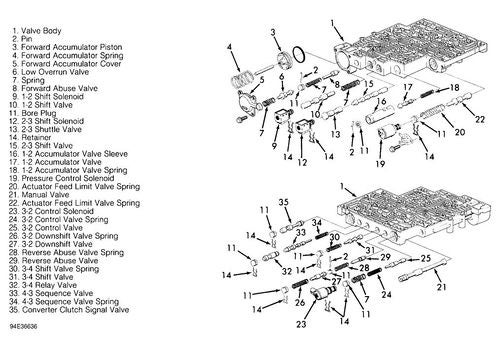 You can edit this article right now.
Just click the "edit" tab at the top of this page, or click one of the [edit] links to the right of an article section.
For more info, see Help:Editing pages.