Powerglide competition transmissions
From Crankshaft Coalition Wiki
by: Cobalt327, Crosley
(Click here to edit this page anonymously, or register a username to be credited for your work.)


[edit]
Overview
From the Powerglide's modest beginnings as a GM passenger car transmission, it has grown to be one of the most-used automatic transmissions for serious competition in history. In fact, the venerable GM Powerglide can be made without using a single OEM part and has probably been used behind more high horsepower engines than any other automatic transmission in existence.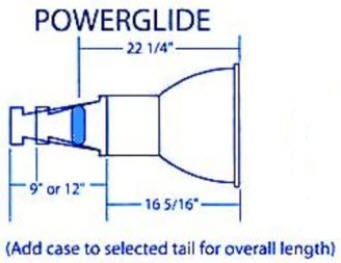 [edit]
Aftermarket Powerglide cases
[edit]
Aftermarket Powerglide bellhousings
Below are bellhousings used to mount the Reid Powerglide transmission case to various engines.
[edit]
Forward drum/clutches
From here:
Glide 10 clutch forward drum downside

I have tried to use one of these and had a problem. When they made the drum to accept more clutches (it has to be used with a cut piston and a hub that is deep enough to hold all 10), the pocket the piston fits in is very shallow so it has a LOT less movement available to engauge the clutches. This means the clutch pack has to have a lot less clearance or the piston will extend too far and the outer rubber piston ring will pop out and hang up the piston.
The piston only has about 0.125" of movement or the ring will pop out. This can be changed about 0.040" by cutting the pads off the back of the stock piston to allow it to sit flat against the back of the pocket. Another problem that can occur on the stock piston (depending on the hub/piston combo used) is interference with the pads on the clutch side of the piston face hitting the deep hub and not allowing the clutch disks to have full pressure.
Just because it is made for 10 clutches, doesn't mean you have to use all 10. It can be stacked with as many steels as is needed to make up for using less disks. The more fiber disks you use the greater the drag will be. Six disks will hold 1100 hp with 225 lbs. pressure.
[edit]
Race-prepped Powerglide planetary
Procedure for assembling a race Powerglide planetary unit.
A special fixture that holds the needle bearings in place and provides the correct number of needle bearings by the length of the slot the bearings sit in.
[edit]
Carrier for planetary
[edit]
Assemble bearings in gears