Exhaust manifold
From Crankshaft Coalition Wiki
by: Cobalt327, Jon, Metzijndrie
(Click here to edit this page anonymously, or register a username to be credited for your work.)


[edit]
Overview
Exhaust manifolds are attached to the cylinder head of OHV engines. They are usually made of cast iron or occasionally steel tubing.
[edit]
Chevy manifolds
[edit]
Rams horn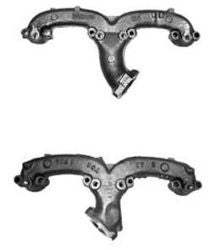 Chevy had two types of the rearward angled rams horn exhaust manifolds. One type was used on X-bodys and the other was used on truck engines. Because of the position of the outlet, neither type will work on F-body or A-body GM cars.
[edit]
Other manifolds
[edit]
Gaskets

Keeping the bolts tight is the major thing.
If/when the gaskets take a dump, try a set of the foil backed composite gaskets that come in most rebuild gasket sets, if they'll fit the head ports- they will work as good as most any more expensive composite gasket if the bolts are kept tight.
Regardless of what gasket that is used, trim the ID to fit the largest port, be it the header or the head port so there's no overhang into the port. After trimming, start all the bolts and just drop the gaskets into place. Other header gaskets can have the bolt holes slotted in the same way as the foil backed gaskets shown above, for easier installation.
[edit]
Ford manifolds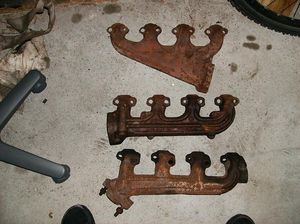 [edit]
Resources